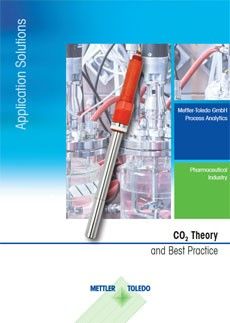 Dissolved CO₂ Measurement Theory Guide
CO2 is an important metabolic indicator in bioprocessing applications. It impacts extracellular and intracellular pH and can directly and indirectly impact glycosylation patterns and molecule stability.
This is why dissolved CO2 measurement is playing an increasingly important role in biotech and bioprocessing applications. Alongside dissolved O₂ and accurate pH measurement, on-line dissolved CO2 measurement helps maximize yield and minimize production time on each occasion that a bioprocess is run.

This guide to CO2 Theory and Best Practice is designed to give an overview of the role that dissolved CO2 measurement can play in bioprocess development, scale-up and production.
In this 60-page booklet you will learn about the physical background of dissolved CO2 measurement, including the basic units of measurement for CO2, influence of temperature and the influence of vapor pressure.
The guide also explores dissolved CO2 measurement technology. After providing an overview of the Severinghaus measurement principle of dissolved CO2 measurement, it provides details on the technology of the InPro 5000i dissolved CO2 sensor, which uses that principle to provide continuous dissolved CO2 measurement.
Shifting from theory, the guide then provides good operating procedures for on-line CO2 measurement. Because most dissolved CO2 measurement is done off-line, for example in blood gas analyzers, this section will help you understand the key considerations when implementing an on-line CO2 sensor such as the InPro 5000i. It covers topics including calibration and maintenance that will assist you in optimizing your dissolved CO2 measurement so that you can maximize yield from your bioreactors.
Finally, the CO2 Theory Guide provides an overview of Intelligent Sensor Management (ISM®) technology, and the benefits that ISM provides in ensuring that you have consistently accurate CO2 readings.  
Download the CO2 Theory Guide today to learn more about how accurate dissolved CO2 measurement can help in the understanding, control and productivity optimization of biological processes.