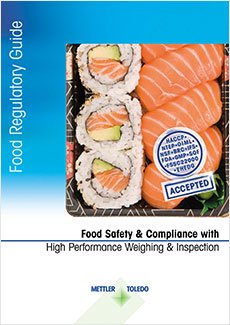 Food Regulatory Guide
This food regulatory guide starts with an overview on existing international food safety and quality schemes such as BRC, IFS, SQF and FSSC 22000 and helps to make informed and compliant decisions, when improving processes or selecting the right weighing equipment and inspection systems in the area of:

Tracking and tracing, formulation, batching
Legal packaging requirements (net content control, labeling, etc.)
Foreign body detection
Hygienically designed equipment
Calibration/control of measuring, monitoring and inspection systems

This guide with his 16 chapters will assist those with responsibility for safety and process assurance in meeting their goals of quality and profitability.
Table of Contents
Chapter 1 Food Safety & Quality – The Trend Towards Certification 06
Chapter 2 Traceability for Standard Compliance and Process Improvement 14
Chapter 3 Improved Production Yield Through Process Oriented Recipe Management 20
Chapter 4 Food Safety – Fresh Products in Grocery Retail 26
Chapter 5 Package Quality Control – Net Content Control 34
Chapter 6 In-line Checkweighing – Aspects of a Key Technology 40
Chapter 7 Vision Inspection – Driving Quality and Process Security 46
Chapter 8 Foreign Body Detection – Metal 52
Chapter 9 Foreign Body Detection – X-ray Inspection 58
Chapter 10 Hygienic Designed Food Scales – Less Contamination, Enhanced Profits 64
Chapter 11 7 Considerations for Cleaning Production Equipment 70
Chapter 12 Efficient Quality Management in a Regulated Environment 76
Chapter 13 Meeting Legal Metrology Standards 84
Chapter 14 Reaching Specified Food Attributes with Compliant Analytical Instruments 92
Chapter 15 Moisture Analyzer Routine Performance Testing 98
Chapter 16 Intrinsically Safe Solutions – Accurate Weighing in Hazardous Areas 104
Preview the first chapters before registering for the full download
Learn more about 16 areas where weighing and foreign body control helps to fulfill global food safety and quality standards.