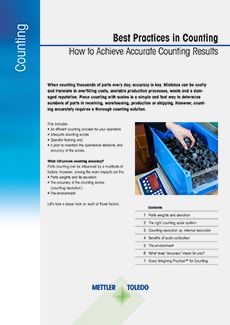 Best Practices in Counting
When counting thousands of parts every day, accuracy is key. Mistakes can be costly and translate into overfilling costs, unstable production processes, waste and a damaged reputation. Piece counting with scales is a simple and fast way to determine the number of parts in receiving, warehousing, production or shipping. In any case, accurate counting requires a comprehensive and dependable counting solution.
Use our new white paper to help you achieve reliable processes and increase productivity in parts counting.