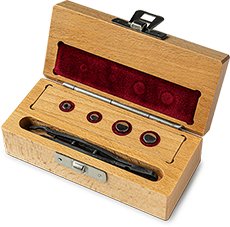 Datasheet: Accuracy Calibration Certificate for TGA
METTLER TOLEDO's unique Accuracy Calibration Certificate (ACC) comes with detailed instructions for calibrating your thermogravimetric (TGA) microbalance according to your own weighing processes and tolerances. Calibration of microbalances is critical since weighing devices exhibit changes in performance over time with general use. ACC calibration quantifies the performance of your micro or ultra-microbalance and determines the measurement uncertainty over its entire weighing range. The certificate also includes the annex Minimum Weight determination to ensure consistently accurate weighing results (more details in UserCom 41).
ACC service is provided for up to eight TGA/DSC or TGA balance types (1 g or 5 g reduced to 2 g capacity). Tests can be performed manually or automatically using the sample robot.
The certificate provides:
Error of indication tests
Repeatability test
As found and as left results available
Enhanced graphical elements
Measurement uncertainty (calculation, absolute, relative)
Uncertainty in use formula
Minimum weight determination (as found)
Minimum weight for various safety factors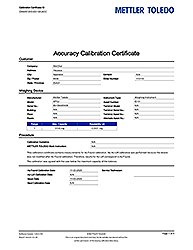 Accuracy Calibration Certificate for TGA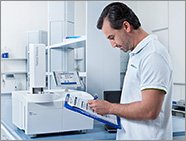 Thermal Analysis Service and Support
TA Service & Support
We support and service your measurement equipment through its entire lifecycle – from installation to preventive maintenance and calibration, to equipment repair. Benefit from our TA service offering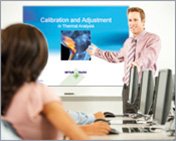 Thermal Analysis Services
TA Services
Benefit from METTLER TOLEDO's world-class services, be it hands on trainings and interactive webinars, or educational materials such as handbooks, UserComs and TA applications written by thermal analysis experts.