Validation in Thermal Analysis
Validation in Thermal Analysis is written by specialists in this important field. It describes the validation of equipment, processes and methods.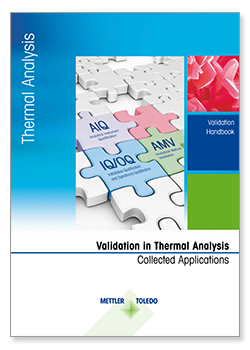 Validation in Thermal Analysis
Validation is a crucial for obtaining reliable results. The validation process begins with equipment qualification, followed by computerized system validation, and finally method validation. The handbook discusses all three aspects in detail. Examples of method validation in field of thermal analysis make it highly recommendable for every analytical laboratory.

The handbook is intended for newcomers interested in the theoretical and regulatory aspects of validation and for thermal analysis practitioners who have to validate their equipment and methods.

Examples involving the glass transition, purity analysis and content determination show in detail how the theory can be applied to obtain an SOP and a validated method document.
Examples of contents
(pdf)