Sensor for oppløst oksygen / sensor for oppløst CO2
Oppløst oksygen sensor for optimal produktavkastning og kvalitet
Hvordan kan vi hjelpe deg?
Produksjonslinjemåling for overvåking av oppløst oksygen er avgjørende for optimalisert produktavkastning, kvalitet og prosessikkerhet. Oppløst oksygen sensor fra Ingold and Thornton for farmasi-, kjemikalie- og mat- og drikkevarebransjen gir nøyaktig informasjon for prosesskontroll i sanntid. Det siste innen optisk teknologi garanterer nøyaktig måling helt ned på sporstoffnivå. I tillegg tilbyr Intelligent Sensor Management (ISM) (intelligent sensorstyring) diagnostikk som konstant overvåker sensorslitasje. Slik kan nedslitte sensorer erstattes før ytelsen påvirkes, og dermed minimeres også vedlikeholdskostnadene. For oppløst oksygen tilbyr vi også bærbare analysatorer for rask prøvemåling der dette kreves..
Høyytelses sensorer for oppløst oksygen for krevende bruk i kjemisk og farmasøytisk bransje samt og mat- og drikkenæringen.

For nøyaktig CO₂-måling innen farmasøytisk industri og næringsmiddelindustri.

Sensorer for oppløst ozon for produksjonslinjen gir pålitelig overvåking av rensing av rent vann for bruk i farmasøytisk industri, mikroelektronikkbransjen og drikkevarebransjen.

Predictive diagnostics and preventive maintenance thanks to

Intelligent Sensor Management (ISM)

Highest accuracy and minimal maintenance effort

due to optical technology

Models available for hygienic applications

Spar tid ved håndtering og vedlikehold takket være

unik membranmodul

Bedre nøyaktighet og små avvik takket være

forbedret termisk ledende måleteknikk

Ingen fare for kontaminering

at sensorene kan steriliseres enten på utstyret eller i en autoklav

Rapid ozone response

tracks sanitization closely

Simple maintenance

with slip-on membrane

Can accompany conductivity and TOC measurements

with multiparameter system
Portable DO meter for at-line ppb-level sampling or as a temporary on-line solution. Uses optical dissolved oxygen measurement for stable, accurate results.

Gamma-sterilizable sensors in single-use format for measuring pH and DO. Designed for biotech companies that manufacture single-use bags.

ISM accessories such as software or transmission solution allow you to take full advantage of ISM technology.

Mobile oxygen measurement solution

Easy and intuitive touchscreen operation

IP67 enclosure resists wet environments

Cleanable flow-through design for at-line sampling

Stores data for up to 99 measurements points

Suitable for use in a wide range of applications

Compatible with standard METTLER TOLEDO transmitters

Long-term measurement stability and performance

Designed for 1" Eldon James port disc

Calibrate your sensors away from the process

Monitor sensor history, diagnostics & inventory

Easy system verification with sensor simulators

Connect sensors to a computer or mobile
Publikasjoner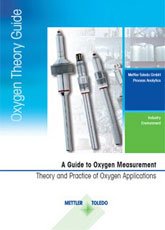 Guide to Oxygen Theory
Oxygen measurement and control plays an important role in countless processes across the chemical, pharmaceutical, biotechnology, power, and food & beverage industries. Dependable in-line measurement of O2 in liquid and gaseous mixtures is vital for providing continuous, real-time data on oxygen levels. The oxygen theory guide is a comprehensive referene and training tool.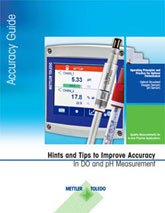 Guide to Accurate Dissolved Oxygen Measurements
Achieving high quality products is possible with a stable, predictable and consistent production process. The accuracy of process analytics in-line sensors plays a major role in monitoring manufacturing to ensure the required process conditions are always being met. This guide covers good operating procedures and includes advice for maintaining in-line dissolved oxygen and pH sensors to ensure high measurement reliability at all times.
Process Analytics Product Catalog
The Process Analytics catalog includes product features and specifications, benefits and recommended application areas, order details and much more for process analytics measurement solutions. You will find the information you need quickly and easily.
Service
Sjekk våre tjenester – Skreddersydd for å passe ditt utstyr
Vi tilbyr støtte og service for måleutstyr gjennom hele livssyklusen, fra installasjon til forebyggende vedlikehold og kalibrering, til reparasjon av utstyr.