Ariva
Ariva Integrated Checkout Scales
Superior transaction speeds offer faster checkout processes and shortened weighing times for your busy shoppers. The Ariva checkout scales are the ultimate solution for optimized checkouts. With their low power consumption, Ariva offers a reduced cost of ownership and enhanced sustainability. The new USB interface simplifies integration.
Furthermore, METTLER TOLEDO offers one globally used software for simplicity and best usability. In addition to faster transaction times, the durability of Ariva is unmatched. The robust design protects the interior weighing components from dirt and liquids and withstands the abuse of the day-to-day checkout process. The Ariva is integrated with Honeywell, NCR, and Datalogic scanners.
Robust Design
Checkout scales must meet the highest standards in reliability and speed. At the same time, they are exposed to rigorous use and risks that could cause damage – from liquids to dirt to foreign objects.
Ariva checkout scales mitigate these risks with an exceptionally robust design that protects the interior of the scale and the weighing mechanics from operational problems.


Display Compatibility
All Ariva checkout scales are compatible with the METTLER TOLEDO VCODisp (Virtual Checkout Display) application, bright weight only display, and bright price-computing display. Retailers who weigh at the cash register can display cash register and weighing information together on the cash register monitors. This means there is no need for a separate scale monitor, creating more space and visual simplicity at the checkout.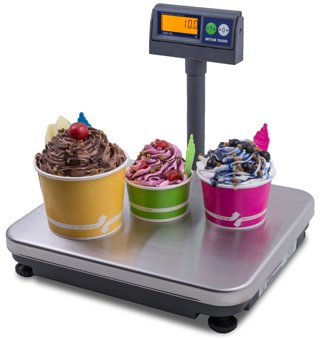 Ease of Integration
The Ariva checkout scales connect to most point-of-sale systems for checkout applications, and to personal computers for many other applications that require weight data. The Ariva checkout scales are available in three designs – for use with bioptic scanners, for installation of horizontal scanners, and as a stand-alone scale without scanning. A number of popular scanners are supported, including models from Datalogic, NCR, Motorola/Zebra Technologies and Honeywell.
Fast Weighing Processes
Ariva checkout scales offer enhanced customer service, thanks to their exceptional transaction speed. This means fast weighing processes without extended wait times in the checkout line.

The checkout line is the last stop in a shopper's visit, which can make or break the shopping experience. Give customers what they want - speed. Retailers get the accuracy they depend on, as the Ariva checkout scales offer a fine weighing resolution of 15 lb (6 kg), up to a large weighing capacity of up to 30 lb (15 kg).
Sustainable Technology
Ariva checkout scales are very economical when it comes to power consumption. This certainly pays off and is also good for the environment. Strategies for more sustainability in the cash register zone exemplified in a credible way - Ariva checkout scales make the decision easy.