Aspirator QuickFlow 4L
Vacuum Aspirator for Cell Cultures.
The Rainin QuickFlow Portable Aspirator. Ergonomic handle; 3 adapters fit Pasteur pipette, 1 or 8 universal-fit pipette tips. 4-liter bottle; quick-snap connectors, tubing. Variable speed. Non-contact liquid level sensor. Autoclavable, fits inside hood.
Improved ergonomics
Switching to continuous mode on the QuickFlow handle eliminates the need to repeatedly press and hold the aspiration button.
Guaranteed safety
The robust non-contact liquid level sensor prevents overflow. Simple, self-sealing snap connectors keep any contamination inside the bottle.
Workflow flexibility
Single channel, 8-channel and glass Pasteur pipette adapters. From flasks to plates to tubes, QuickFlow adapts to your applications.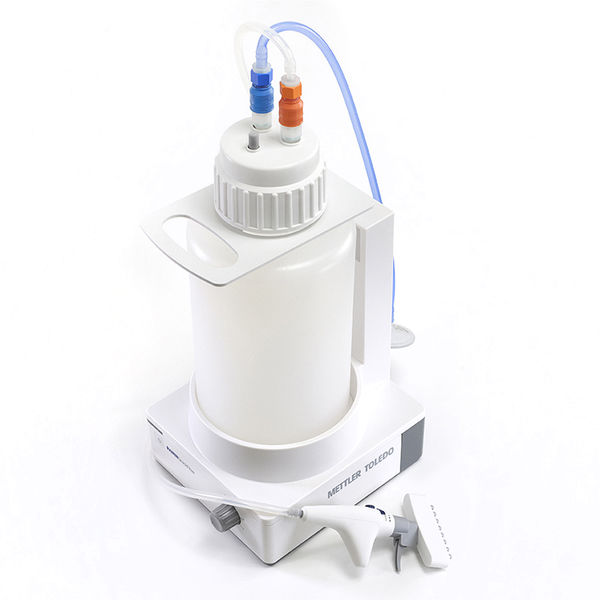 Specifications - Aspirator QuickFlow 4L
| | |
| --- | --- |
| Material Number(s) | 30519826 |
Accessories
Benchtop Aspirator

Handle kits QuickFlow Standard
Consumables
Bagged Pipette Tips
Gel-Well Pipette Tips
Tips GelWell 0.17mm 250 µL GT-250-2
Gel-Well 0.17mm, 200 tips in 1 rack
Tips GelWell 0.37mm 250 µL GT-250-4
Gel-Well 0.37mm, 200 tips in 1 rack
Tips GelWell 0.57mm 250 µL GT-250-6
Gel-Well 0.57mm, 200 tips in 1 rack
Green Pak Refills
Low Retention Pipette Tips
Pipette Tips RC UNV 250µL L 1000A/1
1000 Low retention tips in bags
Pipette Tip Racks Removable Cover Racks
SpaceSaver Pipette Tips
Pipette Tips GPS UNV 250µL 960A/10
Pipette Tips GPS UNV 250µL L 960A/10
Pipette Tips GPS UNV 250µL S 960A/10
Pipette Tips GPS UNV 250µL LS 960A/10
Terra Rack
Wide Orifice Pipette Tips
Pipette Tips RC UNV 250µL W 1000A/1
1000 tips in 1 bag