Wireless Floor Scale ACW520
Complete Freedom from Cables Flexibility to Place Anywhere
Wireless and Cable-Free Floor Scale
What is a wireless floor scale?
A wireless floor scale is just like a standard floor scale, but is enabled with wireless communicatio...

What is a wireless floor scale?
A wireless floor scale is just like a standard floor scale, but is enabled with wireless communication built in – effectively eliminating the need for cabling and cords.

What is the benefit of a wireless floor scale?
There are many benefits of going wireless with your floor scale solution. First of all, this provides the ultimate flexibility in placement of the scale itself. Traditional floor scale projects can be limited by cabling requirements, requiring strategic planning as to where the floor scale can be placed relative to power sources etc.

Additionally, traditional floor scales can require expensive and time consuming construction work if being done new or a move is required. For many facilities, floor scale cables must be 'buried' so that the cables are not exposed on the floor. This is to eliminate tripping hazards and ensure efficiency in the production area. But the consequence is expensive, dirty and time consuming construction. Concrete must be broken up, cords set, and then new concrete set. You can see how a wireless floor scale would save time and money in this regard.

Another benefit of wireless floors scales relates to lean manufacturing and having on what is necessary to produce on the floor. For many manufacturing facilities, they require a floor scale solution for processes some of the time, and others they are note using it. This is especially relevant in scenarios that include a 'clean room' – where certain applications will require the use of the floor scale, but then they might not use it for several days after. In these highly sensitive environments, space is everything. A wireless floor scale gives the opportunity to use the scale when it is needed, and easily remove it when it is not in use.

To discover more benefits of wireless floor scales, download the brochure.

Place and Weigh Anywhere
Our cable-free and pre-calibrated floor scale was designed to give your operation the flexibility it requires. With the ability to place and weigh the same day, exactly where you need it – you can avoid any disruptive downtime. Additionally, by eliminating the construction, digging and electrical work that is typically required with a floor scale installation – you save tons.
See why elephants prefer cable-free, watch the video!
Fully Wireless Communication
For some operations, burying equipment cables is not an option. In this case, there is a risk for operators to trip over cables, as well as accidently cut cables in production. Eliminate these hazards and reduce downtime with a cable-free floor scale.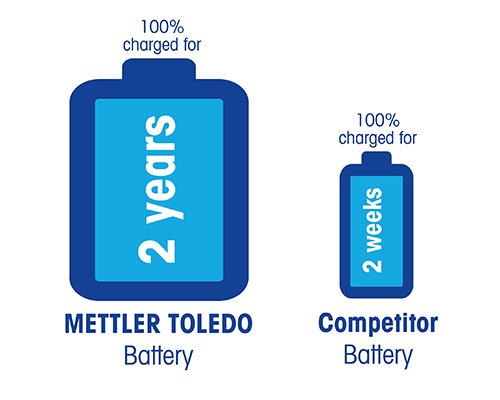 Unrivaled 2 Year Battery Life
Not all cable-free floor scales are created equal. Only METTLER TOLEDO can offer a scale that eliminates charging stations, failure prone rechargeable batteries and the associated downtime. Our battery holds its charge for an incredible 2 years of use – saving you on energy cost, and keeping your equipment up and running when it matters most.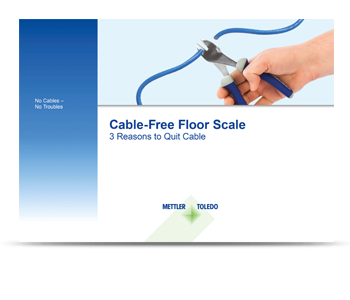 3 Reasons to Quit Cable
In fast paced industrial environments, there are plenty of reasons to want the freedom of a cable-free floor scale. We narrowed it down to the top three.
Download the eBook to see how you could benefit from METTLER TOLEDO quality, in a new flexible package.
Documentation
Brochures

When verifying inventory, parts, or production quantities, every piece is important. Precision piece-counting technology ensures that only the right n...