Bench Scale ICS429g-B30
Speed up Production.
Optimize your production processes
An optimal combination between terminal and weighing platform (t-, f- or c-version) leads to less production failure and speeds up your productivity.
Resist wet and harsh 24/7
All parts have been built according to the latest hygienic design guidelines supporting an easy, fast and efficient cleaning procedure.
Easy to operate
All you need for basic weighing. The screen content can be configured to your special needs.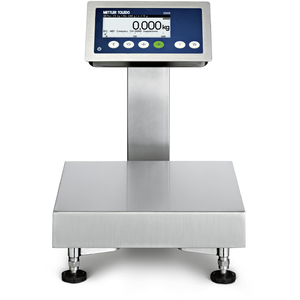 Product Family:bench-scale0003000300060005
Specifications - Bench Scale ICS429g-B30
| | |
| --- | --- |
| Maximum Capacity | 50 lb (30 kg) |
| Readability | 0.005 lb (2 g) |
| Repeatability (sd) | 0.0016 lb (0.7 g) |
| Platform Size (LxWxH) | 15.7 in x 19.7 in x 5.29 in (400 mm x 500 mm x 135 mm) |
| Material | Stainless Steel V2A (AISI 304) |
| Protection Rating | IP65; IP67; IP68; IP69k |
| Display | Graphic LCD with backlit |
| Interfaces | RS232 |
| Readability (Certified) | 0.01 lb (10 g) |
| Housing | Stainless Steel V2A (AISI 304) |
| Repeatability | 0.005 lb (2 g) |
| Application Software | Dynamic Weighing; Simple weighing |
| Hazardous Approval | No |
| Repeatability (typical) | 0.0016 lb |
| Repeatability (typical) | 0.7 g |
| Applications | Dynamic weighing; Simple Weighing |
| Data Interface | Ethernet; Serial; USB; WLAN |
| Dimensions/Platform Size | from 15.8" to 19.7"; from 401 to 500 mm |
| Environment | Wet & Harsh Wet (</=IP66) |
| Legal for Trade | NTEP; OIML |
| Interfaces (Optional) | Discrete I/O; Ethernet; RS422; RS485; USB; WLAN |
| Scale Interface | Analog |
| Voltage | AC Version; Battery Version |
| Hygenic Design | Yes |
| Maximum Capacity | 25 kg |
| Platform Type | Bench Scale |
| Readability (Certified) | 5 g |
| Material Number(s) | 22021012 |
Maximum Capacity:50 lb (30 kg)Maximum Capacity:50 lbMaximum Capacity:30 kgReadability:0.005 lb (2 g)Readability:0.005 lbReadability:2 gRepeatability (sd):0.0016 lb (0.7 g)Repeatability (sd):0.0016 lb (0.7 g)Platform Size (LxWxH):15.7 in x 19.7 in x 5.29 in (400 mm x 500 mm x 135 mm)Platform Size (LxWxH):15.7 in x 19.7 in x 5.29 in (400 mm x 500 mm x 135 mm)Material:Stainless Steel V2A (AISI 304)Material:Stainless Steel V2A (AISI 304)Protection Rating:IP65; IP67; IP68; IP69kProtection Rating:IP65Protection Rating:IP67Protection Rating:IP68Protection Rating:IP69kDisplay:Graphic LCD with backlitDisplay:Graphic LCD with backlitInterfaces:RS232Interfaces:RS232Readability (Certified):0.01 lb (10 g)Readability (Certified):0.01 lb (10 g)Housing:Stainless Steel V2A (AISI 304)Housing:Stainless Steel V2A (AISI 304)Repeatability:0.005 lb (2 g)Repeatability:0.005 lb (2 g)Application Software:Dynamic Weighing; Simple weighingApplication Software:Dynamic WeighingApplication Software:Simple weighingHazardous Approval:NoHazardous Approval:NoRepeatability (typical):0.0016 lbRepeatability (typical):0.0016 lbRepeatability (typical):0.7 gRepeatability (typical):0.7 gApplications:Dynamic weighing; Simple WeighingApplications:Dynamic weighingApplications:Simple WeighingData Interface:Ethernet; Serial; USB; WLANData Interface:EthernetData Interface:SerialData Interface:USBData Interface:WLANDimensions/Platform Size:from 15.8" to 19.7"; from 401 to 500 mmDimensions/Platform Size:from 15.8" to 19.7"Dimensions/Platform Size:from 401 to 500 mmEnvironment:Wet & Harsh Wet (</=IP66)Environment:Wet & Harsh Wet (</=IP66)Legal for Trade:NTEP; OIMLLegal for Trade:NTEPLegal for Trade:OIMLInterfaces (Optional):Discrete I/O; Ethernet; RS422; RS485; USB; WLANInterfaces (Optional):Discrete I/OInterfaces (Optional):EthernetInterfaces (Optional):RS422Interfaces (Optional):RS485Interfaces (Optional):USBInterfaces (Optional):WLANScale Interface:AnalogScale Interface:AnalogVoltage:AC Version; Battery VersionVoltage:AC VersionVoltage:Battery VersionHygenic Design:YesHygenic Design:YesMaximum Capacity:25 kgMaximum Capacity:25 kgPlatform Type:Bench ScalePlatform Type:Bench ScaleReadability (Certified):5 gReadability (Certified):5 g
Accessories
Printers and Peripherals