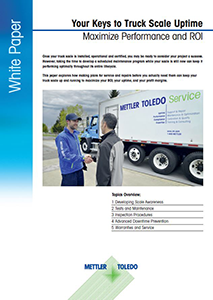 Thumbnail.
Scale ownership doesn't stop after installation. Taking the time to develop a scheduled maintenance program can keep your vehicle scale performing optimally throughout its entire lifecycle. This white paper explores the various aspects of scale ownership, such as:
✓ Scale awareness
✓ Tests and maintenance
✓ Inspection procedures
✓ Downtime prevention
✓ Warranty and service
Prolong the life of your vehicle scale, while protecting your productivity and profits. Download the white paper!