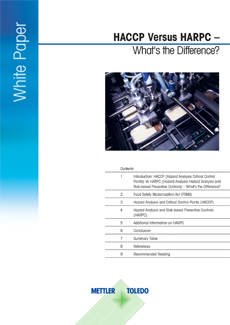 HARPC Verses HACCP - What is the Difference?
This white paper takes a thorough look at Hazard Analysis and Critical Control Points (HACCP) and Hazard Analysis and Risk-based Preventive Controls (HARPC). It details their similarities and differences as well as explaining the key steps food companies must take as they prepare to transition from HACCP to HARPC.
HACCP and HARPC are often discussed interchangeably in food-processing circles. However, if you ask most food processing professionals to explain the differences between the two, the answer may not come so easily. While HACCP is a well-known global standard, HARPC is relatively new.
The white paper focuses on the following areas in detail:
Food Safety Modernization Act (FSMA)
HACCP
HARPC
Additional Information on HARPC
Recommended Reading
Download this informative white paper to learn more
For all food supply chains, HARPC represents a substantial new regulatory requirement that must be taken seriously.  HACCP and HARPC are both food safety standards based on prevention but they differ considerably in the execution. It is important food companies take time to educate themselves on the new regulatory requirements.
Unlike HACCP, HARPC also includes planning for potential terrorist acts and/or intentional adulteration and food fraud. A facility's HARPC plan should therefore include additional security, such as visitor access and control. Supplier and recall programs are also more formal with HARPC. Additionally, the HARPC system requires food facilities to identify and implement science or risk-based preventive controls, rather than critical control points (CCPs) as required by the conventional HACCP system. 
Product Inspection Solutions
Compliance with legal requirements and reduction of waste for the food, beverage, pharmaceutical, chemical and non-food industries.

METTLER TOLEDO offers a range of industrial metal detectors to detect metal contaminants in most food and pharmaceutical applications.

Safeline X-ray's product inspection contamination detection equipment minimises product recalls by enhancing food safety and providing quality assurance.

Serialization and aggregation software and solutions for compliance with industry and government regulations.

Mettler Toledo is an expert provider of vision inspection solutions, with a great deal of experience in this field across a wide range of clients and industries.

ProdX delivers enhanced productivity, superior product quality, high-level security and total process clarity to benefit your full production team.