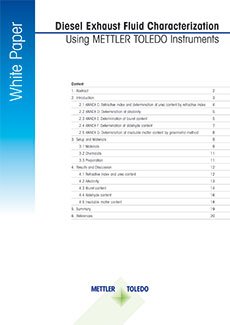 ISO 22241-1 gives the acceptance limits for all the tests described in ISO 22241-2. The results obtained in this study were compared to these acceptance limits.
Test AdBlue® / DEF solutions and ensure compliance with ISO 22241
In this white paper you will learn more about diesel exhaust fluids, and how to test several quality parameters that comply with the following annexes of ISO 22241-2:
Annex C: Refractive index and determination of urea content by refractive index

Annex D: Determination of alkalinity

Annex E: Determination of biuret content

Annex F: Determination of aldehyde content

Annex G: Determination of insoluble matter content by gravimetric method

Annex H: Determination of phosphate content by photometric method
Download this white paper to learn more about the quality parameters of AUS 32/DEF solutions tested using METTLER TOLEDO instruments.
Background Information about DEF (Diesel Exhaust Fluid) Solutions:
The environmental compatibility of diesel engines as compared to gasoline engines is a matter of great dispute in the discussion about the cause of and measures against anthropogenic climate change. While the combustion of gasoline produces more greenhouse gas CO2, diesel engines generally exhaust more nitrogen oxides. The nitrogen oxide molecules NO and NO2, which are included in the generic term NOX, are relevant for air pollution as they cause smog and acid rain in high concentrations and contribute to the depletion of the ozone layer. Hence, there are ambitions to reduce the NOX exhaust in diesel engines on different levels.
A promising approach towards reducing emissions in diesel engines is the selective catalytic reduction (SCR) of NOx. And this is now possible thanks to a reaction with the molecule of urea that is introduced into the exhaust by the means of a 32% urea solution in water (AUS 32). An example for an AUS 32 fluid is the AdBlue® solution. AdBlue® is a registered trademark of the German Association of the Automotive Industry (VDA).