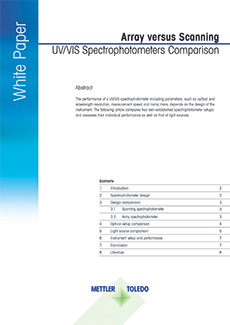 Download the white paper which compares array and scanning UV Vis spectrophotometer setups and assesses their individual performances and benefits.
Are you trying to decide between an array and scanning spectrophotometer for your lab? It's important to understand the pros and cons of each before making a decision.

Our white paper provides in-depth insights into the advantages and disadvantages of both options, along with considerations such as cost, throughput, and analytical capabilities.

Our expert analysis will help you make the best decision for your lab and ensure you choose the right analytical instrument for your specific needs.