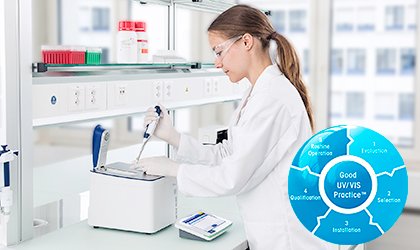 Nucleic Acid Analysis Webinar
Nucleic acid analyses, including determination of the purity and concentration of DNA, RNA and Oligos, are key applications of UV/VIS spectroscopy used in life science. This webinar discusses the importance of Good UV/VIS Practice in achieving accurate results in this application by providing tips and tricks to mitigate common sources of error that can arise due to many different variables in the lab. Among these are instrumentation, samples, cuvette or micro-volume technique, the pipette, the workflow employed, and the operator.

Learn about the key physical principles of spectrophotometers, the innovative technology used by METTLER TOLEDO to advance the accuracy and convenience of your workflows, and best practices regarding the spectroscopic methods used to analyze nucleic acids.
Watch this free webinar now to improve your measurement accuracy through the implementation of Good UV/VIS Practice in nucleic acid analysis.