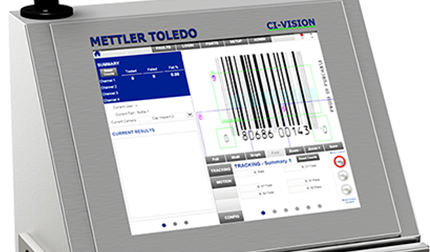 Intuitive Interface
Taking cues from mobile application design, the METTLER TOLEDO software features an interface that is easy for new users to learn and operate. A simplified design and pre-selectable inspection profiles make day-to-day operation easy, and provides a standardized interface across the METTLER TOLEDO PC-based vision inspection systems.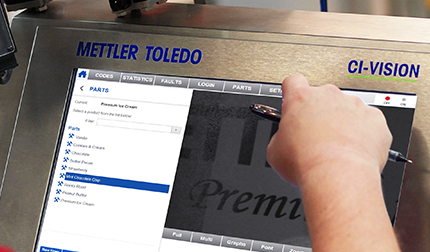 Simplified Part Selection
The METTLER TOLEDO vision software supports a virtually unlimited number of product inspection profiles, allowing users to change between products with only a few touches on the screen. Support for central production controls allows automatic part changes as well.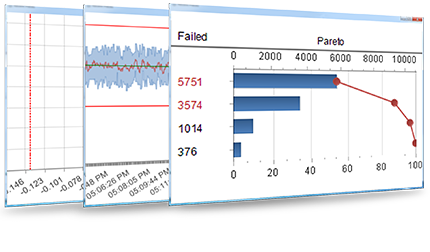 Enhanced Statistical Package
Any vision software can provide manufacturers with a failure count, but our software goes beyond that. Our enhanced statistical package explains why each product failed and can be set to generate regular reports displaying failure trends, aiding in analysis of the production process.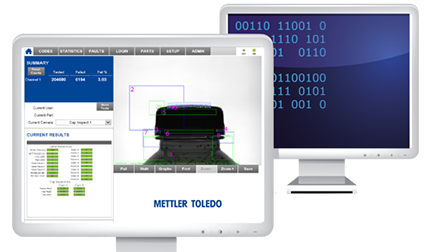 Support for Centralized Control
Communication is important in the production process, and that includes communication between production equipment. The METTLER TOLEDO software supports standard communications protocols such as PackTags, and is fully compatible with Prod X software.
The best hardware in the world is still only as good as the software driving it, and with vision inspection equipment this is no exception. METTLER TOLEDO vision inspection software provides a simplified user interface for easy operation partnered with the most powerful and advanced vision libraries available. Each build of the software is configured to meet the specific manufacturer's needs, with only the tools required for successful operation included in order to keep costs low.  

Communication is key when it comes to efficiency in the production process, and that does not just mean communication between personnel on the factory floor. It also means communication between production equipment. Our PC-based software comes with support for PackTags, a standardized communications protocol which allows for easy communication between production equipment. This allows for the software to receive commands from a centralized control station, enabling automatic inspection profile changes, greatly reducing the risk of human error during the changeover process. In addition, our vision software connects to METTLER TOLEDO's ProdX management software, providing centralized production monitoring along with all other METTLER TOLEDO product inspection systems in your facility.

Working with METTLER TOLEDO
Unlike other vision system providers, METTLER TOLEDO inspection systems come with a global support network, allowing installations worldwide. Manufacturers will find that working with METTLER TOLEDO means working with an expert provider who will strive to meet their needs by any means necessary. Every project runs through its own dedicated project manager who serves as the point of contact between the larger METTLER TOLEDO support apparatus and the customer.

Manufacturers who choose a METTLER TOLEDO vision inspection system not only gain a highly accurate, high-speed inspection system, they gain access to a statistics suite that can be used to see where failures on the production line are occurring, and the system can be programmed to send shutdown signals or set off an alarm after a set number of patterned failures, reducing wasted product and saving time and money.

METTLER TOLEDO is continuously improving upon its vision technology in order to deliver systems that provide accurate inspections and function reliably at high speeds.

Regardless of the container shape, METTLER TOLEDO will work closely with manufacturers to provide the best possible inspection solution.  
Vision Inspection Solutions
News

The BRC Global Standard for Food Safety is recognized around the world as a basis for food safety and quality management. Check out the key changes to...

Validation, verification and routine performance monitoring are often used interchangeably, creating confusion within organizations and across industr...

Quality control is one of the most important stages of the manufacturing process. A product's packaging is the final chance to persuade a consumer tha...

Compliance with industry standards, regulations and legislation is a pre-requisite to protect your customers, your business and your reputation. We un...