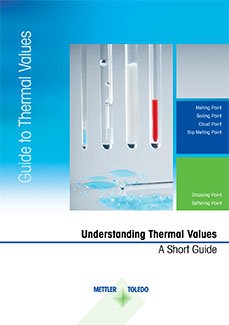 thermal values
In order to qualify or identify a substance or a substance mixture, both its chemical and physical properties, such as thermal values, can be studied. In this guide, we would like to share with you the know-how METTLER TOLEDO has gained over the last 50 years in the area of thermal values determination. We will explain the technique, tips and hints for sample preparation, as well as standards that apply to the following physical properties
Melting point
Boiling point
Cloud point
Slip melting point
Dropping point
Softening point
If you would like more information on specific applications of these techniques, please visit our Applications library.
Download the "Understanding Thermal Values" Guide and gain a greater insight into the determination of thermal values.
Melting point
The melting point is the temperature at which a phase transition from solid (1) to liquid (3) takes place (see Fig. 1). By determining the melting point of a substance, its purity can be analyzed: Pure substances normally have a melting range between 1 – 2 °C, while impurities broaden the melting range. The melting point can therefore be used to evaluate the quality of substances and is widely used for characterization and identification of substances.
Measuring principle
[…]
Sample preparation – tips & hints
[…]
Boiling point
The boiling point of a chemical compound is the temperature at which a phase transition from liquid to gas occurs under normal conditions. It is a substance-specific property that can provide useful information about the identity and purity of a substance, and is often used to select an optimal process temperature – such as determining the ideal storage conditions. Knowledge of this property is also required for Material Safety Data Sheets (MSDS).
Measuring principle
[…]
Sample preparation – tips& hints
[…]
Cloud Point
The cloud point of a solution corresponds with the temperature above or below which a sample becomes turbid. It is most commonly used in the quality control of surfactant production or in their further utilization in emulsions, dispersions, etc. Often, cloud point protocols ask for a 1% weight dilution of the according surfactant in water. If we consider one of the most commonly, industrially-used non-ionic surfactants – alkyl ethoxylates – water solubility of this substance tends to vary inversely with temperature: the higher the temperature, the lower the solubility, and the cloud point is the temperature at which the solution reaches saturation and becomes turbid.
Measuring principle
[…]
Sample preparation – tips & hints
[…]
Slip Melting Point
The Slip Melting Point is often used to characterize fats, oils, and waxes – or any other solids that do not have a defined or sharp melting point. Also known as open tube or open capillary melting point, this technique is described in detail in ISO 6321.
Measuring principle
[…]
Sample preparation – tips & hints
[…]
Dropping and Softening Point
Both synthetic and naturally-occurring products that are important raw materials for various industry segments, such as ointments, synthetic and natural resins, edible fats, greases, waxes, fatty acid esters, polymers, asphalt and tars, do not show a defined melting point. These materials gradually soften as the temperature rises and melt over a relatively large temperature interval. Generally, the dropping or softening point test is one of the few easily-achievable methods available to characterize such materials. To ensure comparable results, standardized test equipment and conditions, as well as appropriate sample preparation, are required.
Sample preparation – tips & hints
[…]
Sample holder and standard-compliant cups
[…]
Solid samples
[…]
Lubricants, greases
[…]
Bitumen, pitch
[…]
Resins, rosins
[…]
Waxes
[…]
Alternative Measurement Methods
As is the case for many other parameters, most thermal values can be tested manually by warming the sample in a liquid bath consisting of water, oil, or another medium. Manual methods require visual inspection of the process, which can be tedious as the full attention of an operator is required to continuously watch the test process.
[…]
Relevance of the single thermal parameters in different industries
Standards overview for melting, boiling, cloud, and slip melting point
Standards overview for dropping and softening points