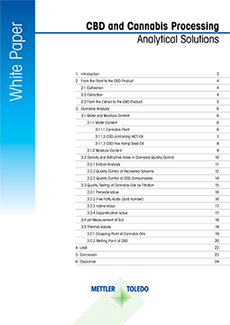 White paper about analytics during cannabis production
This white paper provides an overview of the analytical solutions provided by METTLER TOLEDO applied during the production of cannabis and CBD products.
Strict quality control in the cannabis industry is of vital importance to ensure product safety, efficacy, and compliance with legal standards. From cultivation to harvesting, extraction and distillation, to the isolation of pure cannabinoids and formulation of cannabis consumables, METTLER TOLEDO can help support your cannabis analyses efficiently and reliably.
The analytical methods discussed involve the pH measurement of soil, moisture analysis and Karl Fischer titration of hemp, as well as titration of cannabis oils. Further, density determination of extracts, density and refractive index analysis of cannabis consumables, the melting point of isolates, and dropping point of cannabis oils are shown.
Find out more information by downloading our white paper.