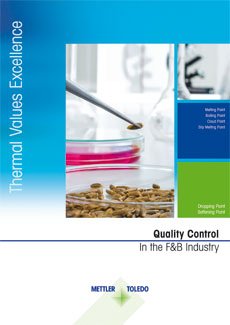 Guide to Quality Control in the F&B Industry
With an estimated value of US$4.6 trillion in 2016, the global processed food and beverage (F&B) industry is wide-reaching and consists of many steps: from food manufacturing and processing, quality control, wholesale and distribution, research and development, to standards and regulations compliance.
F&B quality control: Why does it matter?
Food safety regulations (e.g. American FDA, European EC, etc.) apply to all manufacturers involved in the handling or sale of F&B products. In addition, customers expect the products they purchase are safe to consume. To ensure high-quality products that meet F&B quality control regulations and retain consumer trust, manufacturers and suppliers must be able to verify the safety and quality of their products: not just for consumers, but also for their export markets and other businesses.
There are a few ways to evaluate the quality of raw materials and intermediate and final products. Depending on the ingredient of interest, the following properties can be studied to verify the purity and identity of the ingredient:
Melting point
Boiling point
Cloud point
Slip melting point
Dropping point
Softening point