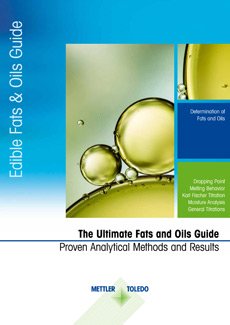 Fats and Oils Guide — Methods for quality control, application samples and results, tips to simplify measurements
Edible fats and oils are among the most important ingredients in many processed food items, and strongly influence their quality and attributes. For example, whether a piece of chocolate melts in your hands prior to consumption, or in your mouth, depends on the appropriate selection and accurate characterization of the raw materials it is made from.
 

To assist those working with edible fats and oils, METTLER TOLEDO has created the "Ultimate Fats and Oils Guide". It offers a 360 degree overview and in-depth descriptions of:
Methods for quality control: melting range, dropping point, water content, moisture content determination, differential scanning calorimetry, UV vis spectroscopy, titration
Sample applications and results
Tips & tricks for simpler measurements
Edible Oils and Fats Analysis
Get more detailed insights on the production process, applications, and quality control solutions.