A  typical pharmaceutical or biopharma production site includes utilizes scales and balances from material dispensing through quality control to packaging.
This Performance Verification Checklist provides an overview of the relevant aspects that can help you implement a compliant and efficient quality management plan.
Download the checklist to discover how to:
Test the relevant weighing parameters
Optimize testing frequency
Implement suitable and efficient operating procedures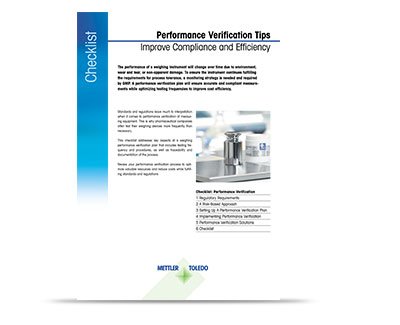 Performance Verification – It's The Law
The legally mandated periodic performance verification of each weighing instrument not only requires significant resources, but it also is a source of possible compliance issues that might surface during an audit.
Having a set plan in place along with a calendar of when to perform what check scan help to ensure a successful audit and keep product quality consistent at all times. The Checklist is a great starting point to develop your plan.

What is a 'Risk-Based Approach'?
Much like defensive driving, a risk based approach is designed to consider every possible risk from the begging to the end of a process. This ensures preventative actions are put in place before they are even needed, proactively preventing problems before they occur.
Based on the determined risk level, an appropriate interval for calibration and testing activities can be determined. Facilities producing products where tight levels of accuracy are critical are at higher risk, and thus should test more often. If weighing accuracy is less likely to affect final product quality, less risk is associated and testing intervals can be farther apart.

Watch the video for an overview of this concept then download the checklist!
What is the difference between calibration and routine testing?
Calibration is performed when a scale's current performance is measuring outside of the allowed tolerance for its purpose. A qualified technician performs the calibration using certified calibrated test weights constructed from a suitable material for the environment. Routine tests or functional tests are conducted in addition to regular calibrations to verify the performance of the weighing equipment at more frequent intervals, depending on the risk assessment of the weighing process. The equipment operator usually conducts routine tests with calibrated and certified test weights.
How often should I calibrate my scale?
Depending on the risk assessment, define the required calibration intervals to ensure accurate measurements over time. Typical calibration schedules go from once per year to four times a year for higher risk weighing processes.
How often should I test my weighing equipment?
When your weighing risk is higher, routine tests help verify measurement performance in-between calibration intervals. The higher the weighing risk, the more routine tests should be scheduled. Testing should be increased in environments of rough handling, frequent temperature changes, or when production material can impact the scale's performance.