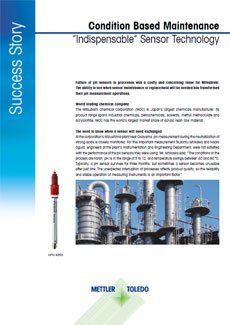 Predictive Maintenance
Mitsubishi Chemical Corporation (MCC) is the largest chemicals manufacturer in Japan. MCC's product range includes solvents, petrochemicals, industrial chemicals, methyl methacrylate and acrylonitrile. Moreover, the company has the world's largest market share of acrylic resin raw material.
The Engineering Department at an MCC plant near Okayama was not satisfied with the performance of their pH sensors and they did not have predictive maintenance. The probes were failing in less than three months and had to be exchanged regularly to minimize chances of failure. The plant needed another solution for predictive maintenance and discovered METTLER TOLEDO's Intelligent Sensor Management (ISM®) sensors, which monitor sensor "health" and predict remaining probe lifetime and when maintenance should be performed.
 
ISM combines the advantages of in-line analytical measurements in chemical companies with modern digital technology. ISM sensors offer improved performance over analog probes for a number of reasons. They have an on-board microprocessor that converts the analog signal from the sensor into the actual measurement of the parameter. This information is sent digitally to the connected ISM transmitter and process control system. Being digital, the signal is immune to interference from surrounding equipment, moisture in the environment, and signal loss due to long cable runs.
ISM's various predictive diagnostic features include the Adaptive Calibration Timer and Time to Maintenance tools, which recommend when to perform sensor calibration and cleaning. These tools ensure that sensors are always performing at their best and prevents calibration or maintenance being performed either too early or too late. The Dynamic Lifetime Indicator informs operators when sensor replacement will be required; therefore, preventing the possibility of a sensor failing in the process.