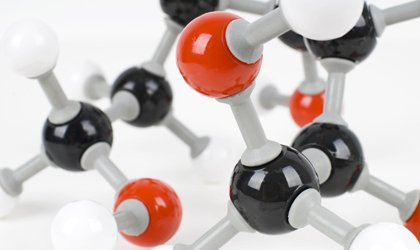 The use of thermal analysis techniques in the field of organic chemistry
Small and medium-size organic molecules of natural or synthetic origin are used as raw materials, additives, active ingredients or processing aids in many industries. Thermal analysis is an excellent method for characterizing organic compounds because many of their properties are temperature dependent.
Common Applications Using Thermal Analysis
The field of organic chemistry covers the synthesis, isolation, purification and reactions of organic compounds and materials. Analyses have to be performed during synthesis and work-up processes to make sure that the desired compounds have been produced and to verify their concentration. Here, the focus is mainly on reaction kinetics and safety aspects. When the final product has been isolated, properties such as purity, stability, polymorphism, melting and reactivity are also checked. Many of the methods used are based on thermal analysis techniques such as DSC, TGA and thermo-optical analysis.
In this webinar, the use of thermal analysis to analyze organic materials is illustrated, and a selection of typical instances of samples measured by TGA, DSC, Flash DSC, evolved gas analysis and thermo-optical analysis are shown.
The presentation will conclude with a Q&A so participants can have their most pressing application questions answered.
Thu Oct 28 2021 14:00 +0000
[ English ]