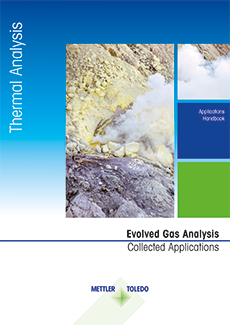 Evolved Gas Applications
Evolved gas analysis (EGA) is used to detect and identify the outgassing components of material for a range of evolved gas applications; it involves methods such as Fourier transform infrared spectroscopy, mass spectroscopy, gas chromatography-mass spectroscopy or micro gas chromatography-mass spectroscopy (respectively FTIR spectroscopy, MS, GC/MS; Micro GC(/MS).
Which Technique Is Best for My Evolved Gas Application?
To acquire more information from a single experiment, a METTLER TOLEDO TGA or TGA/DSC can be hyphenated to a suitable gas analysis system. As each method has their own strengths and limitations, the examples provided in this handbook serve to demonstrate which technique is best for solving a particular application problem.
An Overview of the EGA Handbook:
Introduction to Evolved Gas Analysis (EGA)
Principles of TGA-MS
Principles of TGA-FTIR
Principles of TGA-GC/MS
Principles of TGA-Micro GC/MS
Over 30 Application Examples
Literature
Units, Abbreviations and Acronyms
Index