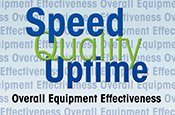 Equipment Effectiveness
Weighing equipment performance can impact overall equipment effectiveness (OEE). A new white paper explains how weighing equipment impacts and optimizes OEE factors by focusing on availability and quality.
In recent years OEE  has seen increased use in manufacturing operations as a critical metric that assesses overall performance. Each of the three factors in the OEE equation, (equipment availability x production rate x production quality) are impacted by weighing-equipment performance.
Factors that negatively impact equipment availability include:
Equipment failures
Material shortages
Safety-related stoppages
Production changeover delays
Operator issues, fatigue, confusion
External factors, such as power outages

Influences that can affect conventional strain-gauge load-cell performance include:
Extreme temperatures
Extreme voltage surges or dips arising from external events, such as lightning strikes for outdoor equipment or poor power quality
Load-cell performance issues, such as non-linearity, hysteresis, creep, zero change
Communication issues arising from cabling or junction-box failure

Several strategies can be used to mitigate these influences.
Predictive maintenance
Without automated self-diagnostics, a system which is performing poorly or below standard may not be discovered until the system fails completely. The outcome can be catastrophic, leading to downtime, or even worse a system that provides inaccurate weights which result in end product quality problems not detected until a downstream quality check identifies a problem.
Advanced weighing systems have predictive failure capabilities, which can identify load-cell signal degradation or erratic weighing performance. By eliminating failure sources, as well as providing smart diagnostics, the availability factor of the OEE equation can be maximized.