Semi-automated Pipette | MicroPro
Portable, Affordable 96-Channel Pipetting
At 320 mm high, 190 mm wide and weighing just 5 kg, the Rainin MicroPro 20 and MicroPro 300 pipetting workstations are the smallest 96-channel pipettes available. 
MicroPro semi-automated pipetting instruments offer precision and faster-throughput when working in 96- or 384-well formats. The instruments connect to a high-resolution touchscreen controller to deliver an intuitive and user-friendly experience with every feature and function at your fingertips.
Call for Quote
/content/ca/en/home/products/pipettes/high-throughput-platforms/micropro-benchtop-pipettor/automated-pipette-micropro.fb.1.c.11.html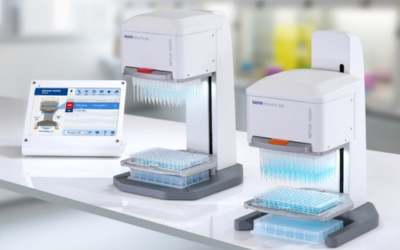 2 Models Available - Wide Volume Range
Benchtop 96-Channel Pipette
Volume Range: 2 - 20 μL
Volume Range: 5-300 μL
Benchtop 96-Channel Pipette
Accessories: Optimize Your Protocol
The MicroPro Dual Nest quickly moves full plates from left-to-right and makes incremental single-column adjustments to fill partial plates.
The Dual Nest also simplifies transfers, dilutions, and touch-offs, while reducing handling of plates. Variants allow for working in 96- and 384- well formats.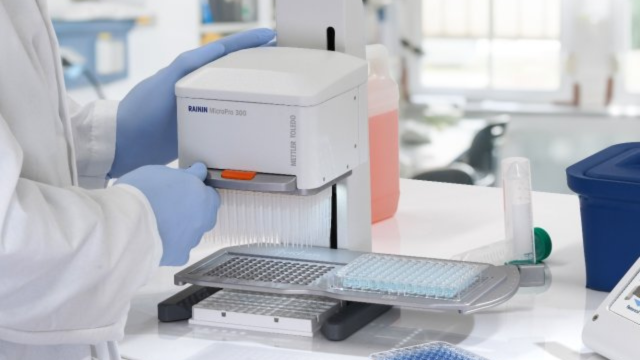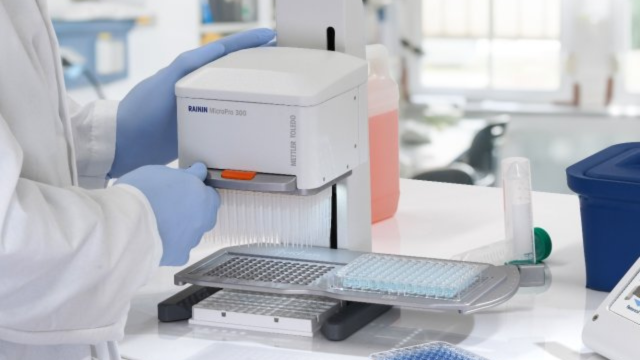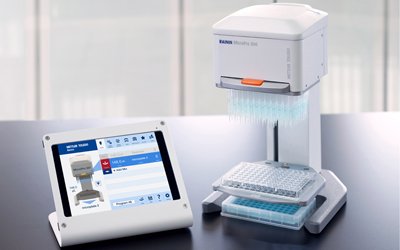 Simplify Protocols
From the easy tip ejection and programmable pipetting depth to precise speed control and the ability to save complex, multistep protocols, the Rainin MicroPro 96 channel pipetting workstations have been designed to reduce operator error and improve reproducibility on the lab bench.
Advantages of The MicroPro Semi-automated Pipette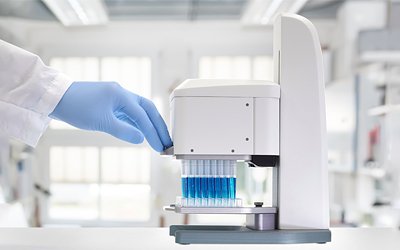 Set/Save Pipetting Depth Recall
Set, store and use an unlimited number of containers with completely customizable depth settings.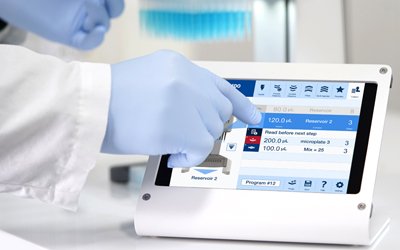 Intuitive Touchscreen Interface
The large high resolution screen provides a friendly user experience with all features and functions right at your fingertips.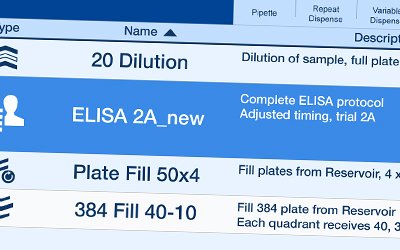 Save/Retrieve Protocols
Store programs in the Favorites section and organize them by name, type, or creation date.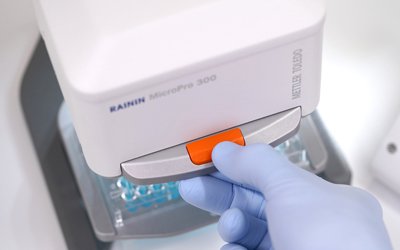 Your Research Assistant
MicroPro goes beyond simply adding and mixing reagents by offering convenient features such as aliquot dispensing, sample dilution with mixing, and multi-aspirate with mixing.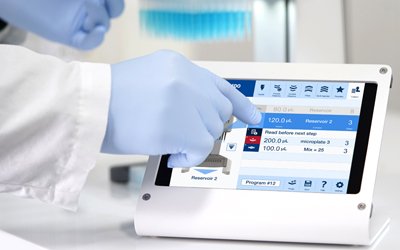 Save Workflows
Easily define and save a complete sequence of automated pipetting, instruction, and timer steps to simplify work for any operator.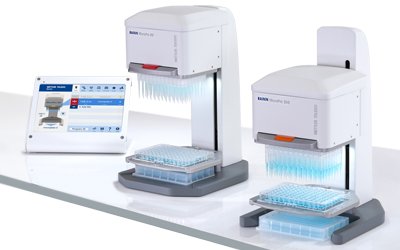 Features: Innovative Pipetting in a Compact Instrument
This innovative compact automated pipetting instrument packs an enormous feature set that offers unprecedented capability and value.
MicroPro features include:
Multi-function pipetting
There are a total of six different pipetting functions, including Pipette with Mix, Repeat Dispense, Variable Dispense, Dilute with Mix, Multi-Aspirate with Mix, and Custom.
Intuitive touchscreen user Interface
Large, easy-to-use wireless touchscreen interface with direct access to all major functions on one screen.
Ringlock tip loading system
Patented tip load and eject system that is simple and easy to use.
Pipetting depth recall function (PDR)
Easily save, control and recall the pipetting depth of each plate, container or reservoir.
Touchless tip loading and ejection
Easily eject used tips without the need to touch them directly, avoiding possible contamination.
Saved programs
Save and organize a practically limitless number of automated pipetting programs for quick and easy use.
10 speed control
Ten unique levels of control over both aspirate and dispense speeds.
96/384 convertible nest
Easily convert the nest for either 96 or 384-channel pipetting.
Technical Data
 
MicroPro 300
MicroPro 20

Volume Range

5 - 300 μL
2 - 20 μL

Systematic Error 

(per channel)

300 μL ± 1.0 % (3.0 μL)

150 µL ±1.5% (2.25 µL)

30 μL ± 1.5 % (0.45 μL)

15 μL ± 2.0 % (0.30 μL)

20 μL ± 1.0 % (0.20 μL)

10 μL ± 1.5 % (0.15 μL)

2 μL ± 5.0 % (0.10 μL)

Random Error

(per channel)

300 μL ≤ 1.0 % (3.0 μL)

150 μL ≤ 1.0 % (1.5 μL)

30 μL ≤ 1.0 % (0.3 μL)

15 μL ≤ 2.0 % (0.3 μL)

20 μL ≤ 0.5 % (0.10 μL)

10 μL ≤ 1.0 % (0.10 μL)

2 μL ≤ 3.0 % (0.06 μL)
Dimensions and Weight
| | | |
| --- | --- | --- |
| Length                | 216 mm (8.5 inches) | 240 mm (9.5 inches) |
| Width | 190 mm (7.5 inches) | 190 mm (7.5 inches) |
| Height | 320 mm (12.6 inches) | 320 mm (12.6 inches) |
| Weight | 5 kg (11 lbs.) | 5 kg (11 lbs.) |
Power Supply
| | |
| --- | --- |
| Input (AC) | 100-240V 1.6A 50-60Hz |
| Output (DC) | 24V 2.5A |
MicroPro Semi-automated Pipette Testimonials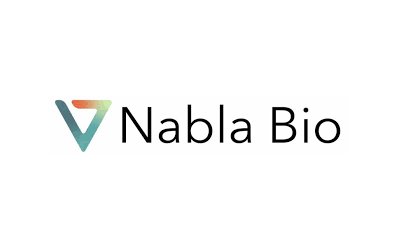 Frances Anastassacos, Nabla Bio, Inc.
Application area: Protein engineering workflow
"This instrument has improved reproducibility, speed and throughput of the experiments we're able to do in the lab. It's a perfect balance of automated and manual for molecular and protein biology."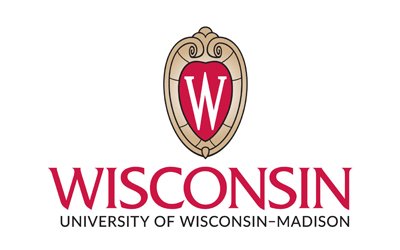 Susan Hromada, University of Wisconsin Madison
Application area: High-throughput bacterial culture and passaging
"The small size of the instrument makes it portable and easy to move between locations. Compared to using a 12-channel multichannel 8 times, the MicroPro is faster, and reduces the risk of cross-contamination."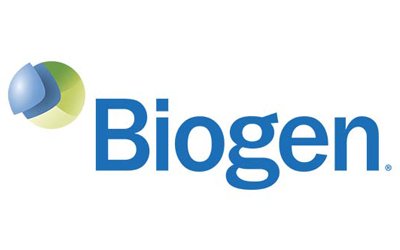 Hao Tang, Biogen
Application area: Analyze functional antibodies in human serum
"I can't work without this instrument. Small footprint, easily fits into a BSC. The software on the iPad is easy to program and very versatile. The instrument needs very little maintenance and has been very reliable."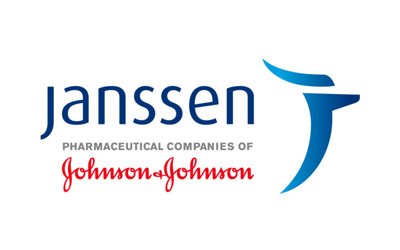 Wenchi Shang, Janssen R&D
Application area: Bioassay liquid transfer from plate to plate
"Small and light weight, easy to maneuver and fit nicely in BSC; easy to use and program with iPad, and saves enormous time and prevents human error."
FAQs
How much time is required to set up my new MicroPro?
From the time you begin unboxing the instrument, you can be up and running in less than 3 minutes. The iPad comes with the App preloaded and already paired with the instrument. Therefore, as soon as you start the App, it will immediately begin looking for and connecting to your instrument.
Can I use any type of tips with the MicroPro?
No, MicroPro automated pipetting systems use a proprietary tip cartridge system specifically designed to reduce the tip load force for a full rack of 96 tips down to approx. 2 lbs. This is what allows the instrument to be so small, and ensures that the tips are firmly mounted and will never leak or fall off.
How are tips loaded and ejected?
MicroPro utilizes a touchless tip load and eject process. For loading, the instrument will detect the presence of the tip cartridge and clamp and seal automatically. For ejecting tips, a single button press will force the tip cartridge from the instrument and back into an empty waiting rack that is positioned in the nest below.
What type of tablet does MicroPro use?
The MicroPro semi-automated pipette is controlled by the MicroPro Controller App that comes preloaded on an iPad Mini. The iPad is also mounted in a robust stand to protect it during use.
Where can I download the MicroPro controller app?
The App comes preloaded on your iPad Mini, but is also available as a free download. Search the Apple App store from any iPad for "MicroPro Controller".
Can I build programs on the tablet, away from the instrument (if it's on the bench or in a hood)?
Yes, the MicroPro Controller App can run in Simulator Mode while not connected to an instrument. Within Simulator Mode, you can create new programs, modify existing programs, and review data logs.
Can the same tablet be used with multiple instruments?
Absolutely! Any iPad, with the MicroPro Controller App can connect and drive any MicroPro instrument. The App itself will automatically recognize the semi-automated pipetting device and adjust accordingly.
Can programs be transferred from one instrument to another instrument in my lab?
Yes. Programs, containers, liquid classes, and even the entire database can be transferred from one iPad to another. The easiest method is to transfer them wirelessly using AirDrop.
Does the instrument come with a pre-programmed library of labware?
No, but the PDR (Pipette Depth Recall) function allows users to define and name new labware in seconds. A virtually unlimited number of containers can be created and saved for use in any program.
Can I create, run and save lengthy, complex scripts and protocols on the MicroPro?
Yes, the Custom pipetting mode allows users to build sequences that include any logical combination of liquid handling steps as well as other step types; including Instructions, Barcode Scanning, Manual Pipetting, etc. The user can potentially enter their entire protocol, which could help reduce errors by ensuring all the various steps are captured accordingly.