Rainin Pipette Calibration Services
ISO/IEC 17025, ISO 8655 Service Experts
Search for Pipette Specific Services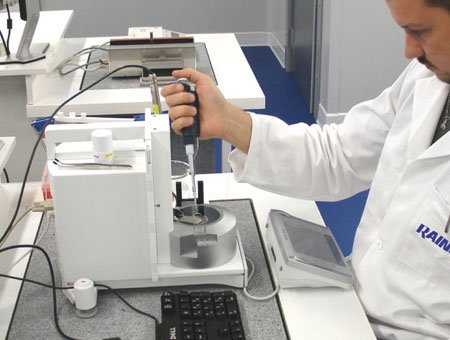 Ensuring accuracy
Calibration assure a pipette's accuracy by evaluating the quality of liquid dispensed at specific volume settings. A variety of factors, including the equipment used, qualifications of the personnel, laboratory environment and specific processes can affect the certainty of the measurements used when calibrating a pipette.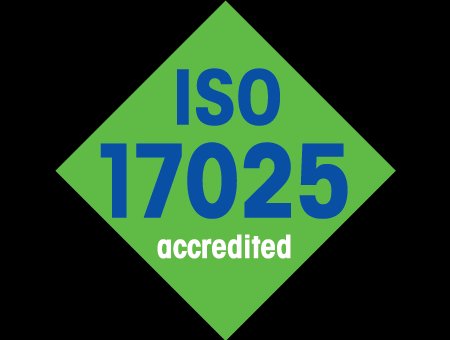 ISO/IEC 17025 accreditation
ISO 17025 accredited labs deliver quality service. The requirements vary slightly from country to country, but all focus on a tightly controlled laboratory environment:

Temperature
Humidity
Atmospheric pressure
Drafts, vibration, etc.

Other requirements include published measurement uncertainties, a documented technician proficiency test program and documented processes.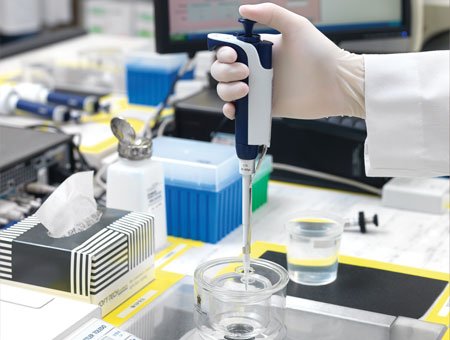 Expert pipette technicians
Pipette technicians calibrate pipettes by:

Aspiring a defined quantity of de-ionized water
Measuring it using state of the art analytical balances
If necessary, making calibration adjustments and re-evaluating

The consistency of results or precision is calculated via a standard deviation. Expert technicians are able to maintain a very low standard deviation, therefore assuring their measurements are close to the expected value.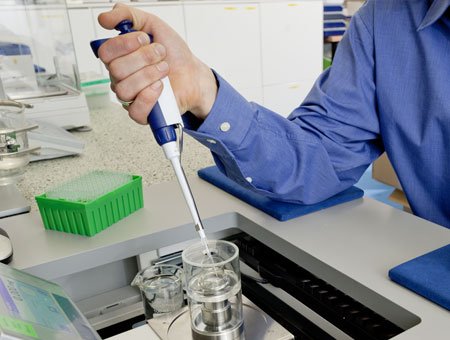 The right equipment
According to the internationally recognized ISO 8655 standard, small volume pipettes like 2µL or even 10µL require a 6 or even 7 digit balance. These balances are extremely sensitive and more often than not fail to work properly in an uncontrolled laboratory environment.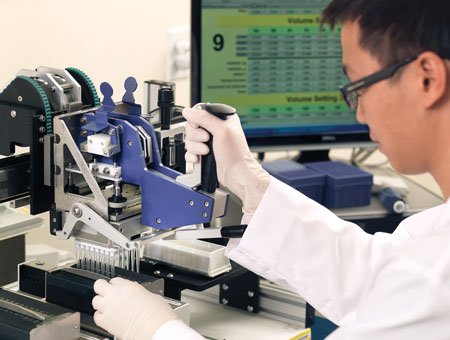 Multichannel calibration
ISO 8655-6 recommends that every channel on a multichannel pipette be calibrated as if it were an individual pipette. We use METTLER TOLEDO MCP balances, which are specifically designed for multichannel pipettes and calibrate all channels simultaneously.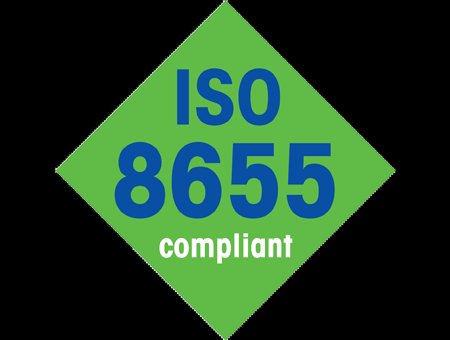 Pipette volume range
ISO 8655 defines the useful volume range of a pipette as being from 10% of nominal to 100% of nominal. The most commonly used volume settings take after the ISO standard; the nominal volume (100%), 50% of nominal and the lower limit or 10% of nominal volume (ISO 8655-6:2002 section 7.1.1).

Volume settings can sometimes vary depending on the calibration standard applied. For example, certain service providers have adopted 25% for minimum, 75% for medium and 100% for maximum as their volume settings. This unfortunately negates the use of the pipette for volumes settings below 25% of nominal volume.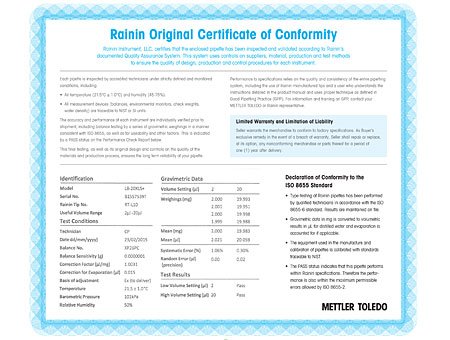 Ensure compliance
The time and hassles associated with internal and government audits means documentation is the only proof of compliance. The best type of documentation is a calibration certificate generated
by software, which is directly linked to the balance.

This software balance link is important as it restricts or even eliminates potential human intervention on reported results. Calibration certificates should specify the serial number of the pipette, date of the service, balance used, technician and more.
Related Services
Pipette preventive maintenance and calibration service significantly reduces costs, risks and liabilities associated with out of calibration pipettes.