Automated Pipetting System — BenchSmart 96™
Quick-Change 96 and 384 Well Pipetting
An automated pipetting system is used to pipette multiple well plates. The semi-automated BenchSmart 96 offers the precision of automation paired with the speed and flexibility of manual positioning. The BenchSmart 96's three quick-change pipetting heads enable 96- and 384-well pipetting from 0.5 μL to 1 mL. The touchscreen display offers precision control over aspiration, dispensing, tip loading and ejection.
Add 1 or 2 more products to compare
Advantages of the Semi-Automated Pipetting System
Interchangeable Pipetting Options
BenchSmart 96 is a semi-automated 96/384-well pipetting system with three interchangeable pipetting heads, giving it a range of 0.5 μL to 1000 μL.
Greater Efficiency
BenchSmart's wide range of application modes – from basic pipetting to advanced features like multi-dispense – make programming easy. The large touchscreen and intuitive interface make it easy to design, execute and save any protocol, from simple one-step procedures to complex, multi-step experiments. Pipetting modes include Basic, Advanced, Dilute, Multi-dispense, Reverse, Volume Sequencing, Mix and Count.
A Versatile Laboratory Assistant
BenchSmart 96 pipetting system is certain to become one of your most versatile and useful laboratory assistants. The 0.5-20 μL head provides excellent range at smaller volumes, the 20-200 μL head suits most day-to-day work and the 100-1000 μL head is perfect for sample preparation and cleanup.
High Reliability
For complex protocols and precise liquid handling, nothing beats automation for accurate and consistent aspiration and dispensing. Add BenchSmart's industryleading specifications and extraordinary ease-of-use, and you can expect higher reliability and repeatability for your experiments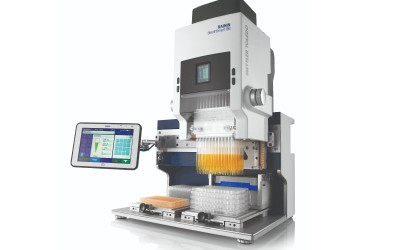 An Intuitive Pipetting System
The BenchSmart 96 pipetting system can be used by anyone in the lab. The four-plate layout simplifies workflows by reducing, if not eliminating, the need to swap out tips and reservoirs. For example: a two-solution protocol requires just four liquid handling steps with BenchSmart vs. nine steps on a two-tray system.
Expert Service – Tailored to Fit Your Pipetting Needs
METTLER TOLEDO supports and services your pipettes through their entire life-cycle, from good pipetting techniques to preventive maintenance and calibration to equipment repair.

Order Pipette Service & Calibration