Press Release: Measuring Moisture Content: Everything You Need to Know on One Page
In a new application-based webpage, METTLER TOLEDO explains the different methods of moisture content determination and presents the crucial criteria you should keep in mind when selecting the right solution for your needs. The page offers a wealth of information, a practical FAQ section and a valuable free guide to help ensure you get the best results, whichever moisture determination method you use.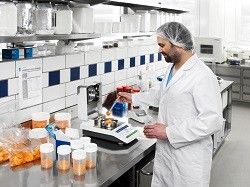 METTLER TOLEDO moisture analyzers enable fast, precise and reliable moisture analysis for quality control and in-process control applications.
Greifensee, Switzerland, July 11, 2018. Moisture content is crucial to product processibility, shelf-life, and quality. The official method for determining the moisture content of a substance is the drying oven method, but did you know that fast halogen moisture analyzers are an officially accepted alternative? The comprehensive new application page from METTLER TOLEDO explains moisture content determination technologies and provides useful guidance to help you select the right method for your application requirements.
Moisture analysis using a drying oven requires the use of an analytical balance with typically 0.1 mg readability (0.0001 g). The main advantages of this method are that it is the official method mentioned in standards (reference method) and that multiple samples can be analyzed at the same time.
All the essentials of moisture content determination are gathered together on one easy-reference page, making it convenient to explore the two main methods in depth and compare them side by side. The valuable FAQ section addresses some of the most common challenges in moisture measurement. Additional topics include:

Using a drying oven and balance: Step-by-step instructions on how to determine loss on drying
Using moisture analyzers: Workflow, video and guide
Related technologies
Assistance and advice on request
Visit the moisture content determination page now and download your free copy of  METTLER TOLEDO'S comprehensive guide to moisture analysis.
About METTLER TOLEDO

METTLER TOLEDO is a leading global supplier of precision instruments and services. The Company is the world's largest manufacturer and marketer of weighing instruments for use in laboratory, industrial and food retailing applications. METTLER TOLEDO also holds top-three market positions in several related analytical instruments and is a leading provider of automated chemistry systems used in drug and chemical compound discovery and development. In addition, the Company is the world's largest manufacturer and marketer of metal detection and other end-of-line inspection systems used in production and packaging and holds a leading position in certain process analytics applications. Additional information about METTLER TOLEDO can be found at  www.mt.com

Press Contact:
METTLER TOLEDO GmbH
Laboratory Weighing
Branko Radovinovic
Head of Communications Laboratory Weighing
Im Langacher 44, 8606 Greifensee, Switzerland
Tel.: +41 44 944 20 39
Email: branko.radovinovic@mt.com
For Word file and Images please contact us.