Cloud-based remote service for scale systems enables problems to be identified often before attendants even know they exist. Emails keep operators and plant managers informed. Issues get fixed before you lose valuable production time.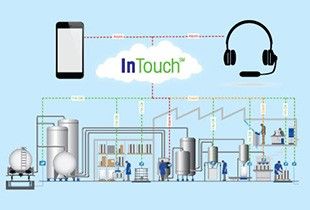 Remote Service
Remote Service
InTouchSM remotely monitors scale-system condition and sends an alert when an important parameter changes. The METTLER TOLEDO remote service team reacts and takes appropriate action to resolve problems, often before scale attendants even know a problem exists.

Maintain security

The cloud-based solution uses the highest level of third-party certified network security to implement safe, reliable and encrypted communications. Your proprietary data never leaves your facility. You are also able to authorize the diagnostic access-level you prefer for METTLER TOLEDO remote technicians.
Remote Service
Resolve issues remotely
InTouchSM services complement an appropriate maintenance agreement so that you get the METTLER TOLEDO preventive maintenance, calibration and repair services you needs at the right time. This keeps your equipment up and running and does not require your weighing equipment to run to failure before problems are addressed—saving you time and money.