Increasingly, carriers are moving away from small local hubs and toward centralized super hubs. To process the vast volumes required, accurate and seamless data communication from the moment a truck arrives is essential.  

To cope with increasing volumes, carriers are moving away from small local hubs and toward centralized super hubs. It is therefore more important than ever that data communication is accurate and seamless from the moment a truck arrives at the hub.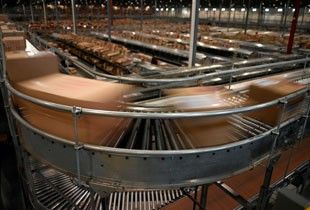 High-speed sorting
Australia's transport and logistics industry, worth about $2 billion, accounts for 15 percent of the country's GDP and employs 585,000+ people. It is also expected to double by 2030.
With that growth, Australia is seeing the rise of the so-called "super hub". One predominant example is Toll IPEC's Melbourne Airport facility, which processes up to 38,000 parcels an hour. That is more than quadruple the 7,000-9,000 packages typically sorted at larger logistics hubs.

Dynamic data capture
Automated data capture and transfer facilitated by METTLER TOLEDO dimensioning, weighing and sorting solutions is helping Toll IPEC complete its communications and recover revenue from the minute packages arrive.
Most packages go into a METTLER TOLEDO sorting system that uses a dynamic cargo scale to singulate and space packages for efficient processing. Items that are too long are processed manually using hand-held dimensioners for quick data capture as well as reduction of manual-entry errors.
Right-sized parcels enter the main sorter where dimension information is captured, recorded and added to the item weight. The item profile is then communicated to the host for invoicing and tracking. Parcels are then conveyed to the right vehicle so they can be loaded onto an aircraft. That transfer remains one of the only areas that requires manual intervention.
Meanwhile, pallet freight is transported via a METTLER TOLEDO scale-enabled forklift truck to a handling station, where it is dimensioned for pricing. All data is recorded in 3-4 seconds by the forklift pallet scale before the pallet itself is moved for re-loading.

Robust solutions
Both conveyed and non-conveyable item information is managed by METTLER TOLEDO software. Dimensioners and dynamic weighing solutions are easily integrated with barcode readers and cameras to provide Toll IPEC with the complete freight-data profiles it needs to succeed moving packages at such high volumes.
METTLER TOLEDO solutions are helping Toll IPEC at nearly every step of their process. For more on how METTLER TOLEDO logistics solutions can help you with your toughest freight challenges, visit www.mt.com/logistics-competency.