SmartStand
The World's First Intelligent Pipette Stand
The Rainin SmartStand is a pipette stand that helps you manage calibration and assures that pipettes in use are SOP-compliant. SmartStand automatically charges electronic pipettes, displays the calibration status of any Rainin XLS pipette you place on it and will charge Rainin E4 XLS electronic pipettes. When used in conjunction with PipetteX asset management software, SmartStand is a part of an integrated, easy-to-use pipette management system.
Add 1 or 2 more products to compare
Advantages of SmartStand Pipette Stand
Reduce Out-Of-Service/Specification-Related Costs
SmartStand is a unique, easy-to-implement solution to help labs adhere to their standard operating procedures and maintain GLP/GMP compliance. With SmartStand, researchers know the current status of their Rainin XLS or XLS+ pipette every time they use it.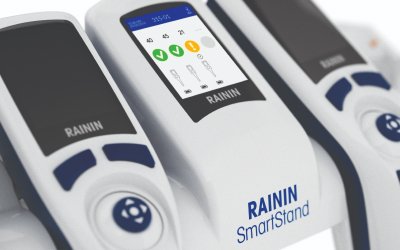 Proactively Manage Compliance
By reading the RFID chip that is in every Rainin XLS and XLS+ pipette, SmartStand instantly and automatically displays the compliance status of up to four manual Pipet-Lite XLS/XLS+ or electronic E4 XLS/XLS+ pipettes placed on the stand. Pick up a pipette and SmartStand's color LCD screen switches to a detailed view of the pipette's service and calibration data.
Save Time on Recordkeeping and Reporting
Looking for a more comprehensive pipette management solution? SmartStand comes with our PipetteX pipette management software. PipetteX uses SmartStand to collect individual pipette data, then organizes it to provide a complete overview of your entire pipette inventory. In PipetteX, you can search, sort, generate reports and export pipette data to other applications.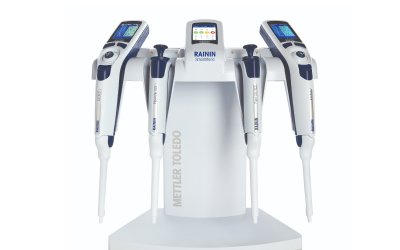 It's a Charger Too!
SmartStand will charge up to four E4 XLS and XLS+ electronic pipettes simultaneously. All of your pipettes will now be fully charged and ready for use when you need them.
Expert Service – Tailored to Fit Your Pipetting Needs
METTLER TOLEDO supports and services your pipettes through their entire life-cycle, from good pipetting techniques to preventive maintenance and calibration to equipment repair.

Order Pipette Service & Calibration