X39 Series Loose Flow
Inspection of Frozen-formed Products.
The X39 X-ray system is specifically designed for the inspection of unpackaged frozen-formed products to ensure your products are free from physical contaminants and product defects.
Reaching Outstanding Detection Levels
Simultaneously detects and rejects physical contaminants in frozen-formed products using our proprietary X-ray software ContamPlusTM.
Exceeding Hygiene Requirements
IP69 design ensures the demands of harsh environments are met using type 316 stainless steel for all key product contact areas, including the reject flap.
Minimizing Product Waste
The X39 performs accurate inspections at up to 57 meters per minute, even when the product positioning on the belt varies, thereby maximizing uptime and reducing waste.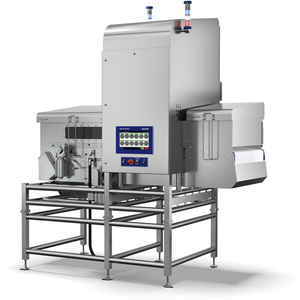 Product Family:XRInspection00040024
Specifications - X39 Series Loose Flow
| | |
| --- | --- |
| Brand Protection | Outstanding sensitivity of metal, glass, mineral stone, calcified bone and high density rubbers |
| Compliance | Support FSMA and all GFSI codes including BRC & IFS |
| Ease of Use | High performance x-ray software can reduce the need for manual adjustments and the potential for human programming errors |
| Increased Productivity | World class reliability and OEE reporting |
| Conveyor Speed (dependent on product dimensions) | 10- 57 m/min |
| Industry | Food |
| Number of Lanes | Up to 7 unguided lanes |
| X-ray Generator | 420W, 84kV, 5.0 mA Beryllium Tube |
| X-ray Emissions | < 1uSv/hr |
| Reject Type | Integrated airblast reject with failsafe reject flap |
| Cooling Method | Heat exchanger and radiator pump |
| Power Supply | 208 - 240 Vac, 1 phase, 50-60 Hz, 10 A |
| HMI | 15.6" LED Touchscreen display (16:9 aspect ratio) |
| IP rating | IP69 |
| Product Type(s) | Unpackaged - Frozen Formed |
| Throughput Rate (dependent on product dimensions) | Up to 1,800 ppm |
| Operating Temperature (Celsius) | 5 °C - 40 °C |
| X-Ray Detector Width | 800mm |
| Laser Inspection | 3D camera with inbuilt laser |
| System Conveyor | FDA and EU food use approved TPU conveyor belt |
| Material Number(s) | 30541252 |
Conveyor Speed (dependent on product dimensions):10- 57 m/minConveyor Speed (dependent on product dimensions):10- 57 m/minIndustry:FoodIndustry:FoodNumber of Lanes:Up to 7 unguided lanesNumber of Lanes:Up to 7 unguided lanesHMI:15.6" LED Touchscreen display (16:9 aspect ratio)HMI:15.6" LED Touchscreen display (16:9 aspect ratio)IP rating:IP69IP rating:IP69Product Type(s):Unpackaged - Frozen FormedProduct Type(s):Unpackaged - Frozen FormedX-Ray Detector Width:800mmX-Ray Detector Width:800mm
Upholding Brand Integrity
The X39 simultaneously inspects products for mass, dents, holes, edge defects, flakes and product length, width and height, ensuring only those products that conform to standards are accepted before continuing the process.

Protecting Profits
A dual reject system, encompassing a fully integrated multi-air nozzle reject system and scoop device, minimizes product waste and saves costs.

Safeguarding Products At High Speeds
The X39 can inspect up to 1,800 products per minute, maintaining a high throughput rate without restriction from other equipment upstream/ downstream.

Maximizing Uptime
Advanced intuitive software monitors all aspects of the X39; warnings are issued if the laser or reject nozzles lose accuracy, ensuring a continual flow of high quality product throughout the production process.

5-Year Generator Warranty
Minimize your downtime and protect the most valuable and expensive part of your inspection system, the x-ray generator, for 5 years when you purchase it with a Standard or Comprehensive Care Package.

Global Service Support
A global network of service experts provide fast remote and on-site support. Our comprehensive service offering allows you to achieve regulatory compliance, high performance, and maximum uptime throughout the life cycle of your product inspection equipment.
Enhancing Production Data Visibility
Ensure the highest levels of regulatory compliance through real-time data collection. ProdX, our PC-based software, constantly monitors and fully documents all production parameters, quality incidents, user interactions and performance verification routines.

Documentation