X37 Series – X3710
Simply Safeguarding Businesses.
The X3710 can inspect up to 300 products per minute (depending on product dimensions), ensuring future-proof inspection capabilities can be achieved if throughput rates need to be increased.
Achieving Detection Precision
The X3710's energy-efficient 20W X-ray generator achieves reliable precision when it comes to physical contamination detection.
Upholding Brand Integrity
Our proprietary software, ContamPlusTM, conducts a full range of integrity checks and removes sub-standard products from the production line.
Safeguarding Product Rejection
We provide a range of pusher and air blast reject options for the effective rejection of faulty products without damaging them.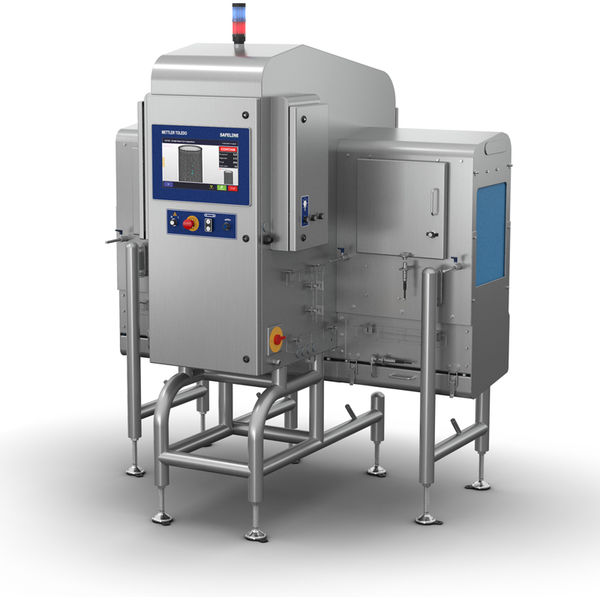 Product Family:XRInspection00040012
Specifications - X37 Series – X3710
| | |
| --- | --- |
| Brand Protection | Outstanding sensitivity of metal, glass, mineral stone, calcified bone and high density rubbers |
| Compliance | Support FSMA and all GFSI codes including BRC & IFS |
| Ease of Use | High performance x-ray software can reduce the need for manual adjustments and the potential for human programming errors |
| Increased Productivity | World class reliability and OEE reporting |
| Conveyor Speed (dependent on product dimensions) | 10 - 30 m/min |
| X-ray Detector Width and Diode Size | 0.8mm diode size |
| Industry | Personal Care; Pet Food; Pharma; Beverage; Food; Nutraceuticals |
| Number of Lanes | Single lane |
| X-ray Generator | 20W (84kV, 0.25mA Glass) |
| X-ray Beams | Single beam |
| X-ray Emissions | < 1uSv/hr |
| Reject Type | Pusher or airblast options |
| Cooling Method | Passive fan assisted cooling |
| Operating Temperature | 5 °C ; 40 °C |
| Power Supply | 208 - 240 Vac, 1 phase, 50-60 Hz, 6 A max; 100 - 110 Vac, 1 phase, 50-60 Hz, 10 A max |
| HMI | 15.6" Capacitive Touchscreen display (16:9 aspect ratio) |
| IP rating | IP65 as Standard; IP69 available |
| Product Type(s) | Packaged |
| Packaging Material | Metal Can; Metalized Film; Cardboard; Plastic |
| Throughput Rate (dependent on product dimensions) | Up to 300 ppm |
| Material Number(s) | 30541143 |
Industry:Personal Care; Pet Food; Pharma; Beverage; Food; NutraceuticalsIndustry:Personal CareIndustry:Pet FoodIndustry:PharmaIndustry:BeverageIndustry:FoodIndustry:NutraceuticalsNumber of Lanes:Single laneNumber of Lanes:Single laneHMI:15.6" Capacitive Touchscreen display (16:9 aspect ratio)HMI:15.6" Capacitive Touchscreen display (16:9 aspect ratio)IP rating:IP65 as Standard; IP69 availableIP rating:IP65 as StandardIP rating:IP69 availableProduct Type(s):PackagedProduct Type(s):PackagedPackaging Material:Metal Can; Metalized Film; Cardboard; PlasticPackaging Material:Metal CanPackaging Material:Metalized FilmPackaging Material:CardboardPackaging Material:Plastic
Maximizing Routine Cleaning Uptime
Large access hatches with LED lighting in the tunnels improve access to the X-ray system for effective cleaning purposes. Magnetic safety switches quickly identify open doors, enabling maximum uptime to be achieved.

Protecting a Wide Range of Products
The X3710 is designed to inspect a large range of tall packaging types (whether rigid or flexible), including composite cans, cartons, tubes, plastic containers and doypacks.

Reducing TCO with Low Energy
Our low-powered 20W generator reduces energy consumption and protects profitability by reducing total cost of ownership (TCO) while supporting sustainability values.

5-Year Generator Warranty
Minimize your downtime and protect the most valuable and expensive part of your inspection system, the x-ray generator, for 5 years when you purchase it with a Standard or Comprehensive Care Package.

Global Service Support
A global network of service experts provide fast remote and on-site support. Our comprehensive service offering allows you to achieve regulatory compliance, high performance, and maximum uptime throughout the life cycle of your product inspection equipment.

Enhancing Production Data Visibility
Ensure the highest levels of regulatory compliance through real-time data collection. ProdX, our PC-based software, constantly monitors and fully documents all production parameters, quality incidents, user interactions and performance verification routines.

Documentation