X33 Series Bulk Flow
Outstanding Bulk Inspection.
The X33 Series Bulk X-ray system provides exceptional contamination detection in unpackaged products in a bulk flow format, inspecting up to 5,000 kg of product per hour.
Reducing Costs with Low Energy
Powered by a 20W generator, the X33 is a low-energy inspection solution, thereby reducing total cost of ownership (TCO).
Ensuring Food Safety
Contaminants are forwarded to a lockable reject bin, which minimizes waste, ensures food safety and provides due diligence.
Maximizing Uptime with a Hygienic Design
The hygienic design allows easy access to all machine areas and has no hidden bug traps, ensuring good uptime. IP69 is maintained as standard.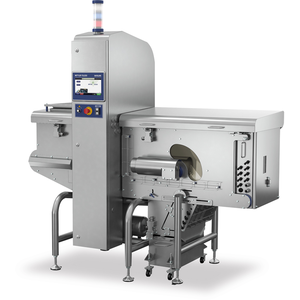 Product Family:XRInspection00040023
Specifications - X33 Series Bulk Flow
Brand Protection

Outstanding sensitivity of metal, glass, mineral stone, calcified bone and high density rubbers
Compliance

Support FSMA and all GFSI codes including BRC & IFS
Ease of Use

High performance x-ray software can reduce the need for manual adjustments and the potential for human programming errors
Increased Productivity

World class reliability and OEE reporting
X-ray Detector Width and Diode Size

400mm, 0.8mm diode size
Industry

Pet Food
Pharma
Food

Throughput Rate (dependent on product and layer thickness)

Up to 5,000 kg/ hr
X-ray Generator

20W (84kV, 0.25mA Beryllium Tube)
X-ray Beams

Single beam
X-ray Emissions

< 1uSv/hr
Reject Type

Two or four lane scoop
Cooling Method

Passive fan assisted internal cooling
Operating Temperature

5 °C - 40 °C
Power Supply

100 - 120 Vac, 1 phase, 50-60 Hz, 10 A max
208 - 240 Vac, 1 phase, 50-60 Hz, 6 A max

HMI

10.1" LED Touchscreen display (16:9 aspect ratio)
IP rating

IP69
Belt Tracking

Automatic pneumatic tracking and tensioning
Product Type(s)

Unpackaged - Bulk
Conveyor Speed (dependent on product and layer thickness)

10-40 m/min
System Conveyor

FDA and EU food use approved TPU conveyor belt, 0.37kW motor unit
Improving Operator Efficiency
The software is sophisticated yet simple to use, with a user-friendly interface based on icons, plus touch and scroll features.

Minimizing Product Waste
Multi-lane scoop reject options are available to minimize product waste, making it suitable for a wide range of products.

Consistent, Reliable Inspection Results
A troughed belt retains the product on the belt, minimizing spillage and maintaining the product at a consistent and acceptable depth prior to inspection.

Offering Application Versatility
The X33 Series Bulk Flow is not affected by changes in product temperature or moisture, making it ideal for wet or frozen applications while minimizing false rejects.

5-Year Generator Warranty
Minimize your downtime and protect the most valuable and expensive part of your inspection system, the x-ray generator, for 5 years when you purchase it with a Standard or Comprehensive Care Package.

Global Service Support
A global network of service experts provide fast remote and on-site support. Our comprehensive service offering allows you to achieve regulatory compliance, high performance, and maximum uptime throughout the life cycle of your product inspection equipment.

Enhancing Production Data Visibility
Ensure the highest levels of regulatory compliance through real-time data collection. ProdX, our PC-based software, constantly monitors and fully documents all production parameters, quality incidents, user interactions and performance verification routines.

Documentation