Profile Advantage Metal Detector
For challenging applications.
Delivers up to 50 percent improved sensitivity to detect smaller metal contaminants when inspecting products that are wet, hot, chilled, cooling or packed in metallized film
Maximum Sensitivity and Performance
Multi Simultaneous Frequency & Product Signal Suppression technology deliver the ultimate detection sensitivity with zero false triggering
Simple to Use and Improves OEE
Easy to use icon driven touchscreen with intuitive product clustering allows single setting operation to drive productivity and increase OEE.
Maximum Uptime
Condition Monitoring and automatic balance control combine to deliver a long-term stable operating platform to improve performance and maximize uptime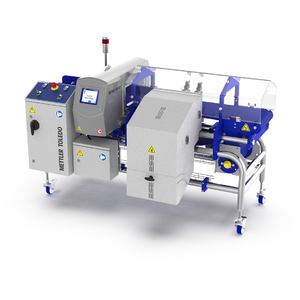 Specifications - Profile Advantage Metal Detector
| | |
| --- | --- |
| Brand Protection | High sensitivity to Fe, Non-Fe & S/S metals |
| Compliance | Supports FSSC22000, BRC, IFS, SQF and FSMA; BRC; FSMA; FSSC22000; IFS; SQF |
| Increased Productivity | World class reliability and automated PV routines; World class reliability and OEE with reporting |
| Cost Reduction | Stable operation with minimal product waste |
| Ease of Use | Single setting operation; Single setting operation with Intuitive Clustering |
| Future Proof | Modular and upgradeable design |
| Operating Mode | Multi-Simultaneous Frequency (10 modes) |
| User Access Log and Detection Log | data stored and displayed; Date and time stamped |
| Product Memory Facility | Stores up to 100 product names with rapid recall |
| Histogram and Vector Diagrams | monitor performance; Track product signal changes |
| Individual User Accounts | 33 user accounts, selectable by job function |
| Product Display Data | Product Name display includes batch/code detail |
| Multiple Languages | 27 selectable user account-specific languages |
| Automatic Performance Monitoring Alarm | Notifies when scheduled test is due/overdue |
| Performance Verification Alarm | Automatic reminder when annual verification is due |
| Documentation | Installation/Operation instructions and IPac |
| HMI Display | 146 mm (5.7 inch) colour QVGA touchscreen display |
| Test Pieces Included | Ferrous, Non-Ferrous and Stainless Steel |
| Temperature Range - Operating / Storage | -10 to +45 degrees C / -10 to +50 degrees C |
| Voltage | 101 to 240 Volts AC (+10% / -15%) |
| Material Number(s) | 28015485 |
Click the image below to view the diagram.       
Download:
Profile Advantage Brochure
Reduce Costs, Increase Productivity
Predictive Analytics and Condition Monitoring maximize productivity through increased performance monitoring intervals to increase uptime and improve OEE. On-board OEE reporting included

Exceed Global Food Safety Standards
Supports GFSI standards, FSMA and all retailer codes of practice. Multi-level access control includes 21CFR Part 11 compliant login mode.

Up to 50% Improved Sensitivity
Superior performance on wet and conductive products. Product signal suppression overcomes product effect to detect more metal contamination in challenging applications irrespective of packaging type.

Ease of Operation
Single setting operation with Intuitive Clustering minimises set up time during multiple product changeovers on the production line.

Product Application
Designed specifically for inspection of loose, pre-packed or packed products on conveyorised production lines. Pipeline option is designed for inspection of liquids, pastes and slurries.

Enhanced Data Collection and Connectivty
PackML 2.0 compliant. Connectivity options such as OPC, EtherNet/IP and Modbus TCP simplify integration and connectivity to factory management information systems.

Stable and Reliable for Maximum Uptime
Intelligent balance control and enhanced vibration/noise immunity combine to make Profile Advantage the most reliable metal detector on the market.

Documentation
Multimedia

Profile Advantage Metal Detection Systems
A revolutionary breakthrough in metal detection technology
Watch this video to discover how Profile Advantage delivers unrivalled levels of detection sensitivity to support an increase in users' brand protection. Compliant with all major GFSI standards and retailer codes of practice, it simplifies the metal detection process to drive operational costs down and continuously monitors the sensitivity of the system allowing users to reduce the frequency in which they undertake Performance Monitoring testing.

Benefits of Profile Advantage
The most advanced development in metal detection technology for challenging applications
Profile Advantage is ideal for wet, hot, chilled, cooling products or those packaged in metallised film. A breakthrough in Multi-Simultaneous Frequency (MSF) technology and Product Signal Suppression deliver up to 50% improved sensitivity on any challenging metal detection application to ensure brand protection, compliance, cost reduction, increased productivity and improved performance for food manufacturers.

Profile Advantage Overcomes Product Effect
Minimising false rejects caused by product effect in challenging applications
Finding the smallest metal contaminants is a challenge for many bakery, meat, poultry, seafood, ready meal and dairy food producers due to a phenomenon called product effect. This is where the product itself limits the achievable size of metal found by the metal detector, potentially leading to higher false reject rates, contaminated products reaching supermarket shelves and the consumers' dinner tables, product recalls and irreparable damage to your brand reputation.