RB Profile Metal Detector
For bulk product inspection.
Safeline's most advanced food metal detector with ultra-high tuned frequency technology. Fully optimized for inspecting large and bulk conveyorized products.
Maximum Sensitivity and Performance
Multiple ultra high tuned frequencies with enhanced noise and vibration immunity deliver exceptional sensitivity in bulk product applications
Simple to Use and Improves OEE
Intuitive, easy to use icon driven touchscreen with product clustering allows single setting operation to drive productivity and increase OEE.
Maximum Uptime
Condition Monitoring and automatic balance control combine to deliver a long-term stable operating platform to increase performance and improve uptime.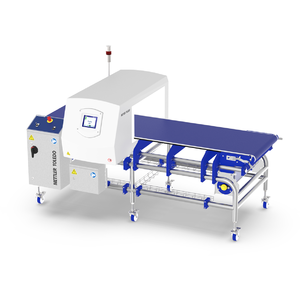 Product Family:MetalDetection00030014
Specifications - RB Profile Metal Detector
Brand Protection

Maximum sensitivity to Fe, Non-Fe & S/S metals
Compliance

Essential (GFSI/FSMA)
Higher Level (Retailer)

Increased Productivity

World class reliability and OEE reporting
Cost Reduction

Stable operation with zero false rejects (FRR)
Ease of Use

Single setting mode via auto product clustering
IP rating

IP65
IP69k

Future Proof

Upgradable design to meet future requirements
HMI

5.7" QVGA color touchscreen display
Unparalleled Support

Global service capability and modular spare parts packs
Product Flow

Conveyor
Assured Compliance

Supports FSMA & all GFSI codes incl. BRCGS & IFS
Detection Capability

AdvancedLine
Frequencies

Ultra High Tuned
Product Characteristic

Dry/Deep Frozen
Industry

Food
Other

Conveyor Integration

Bespoke
MB
SL1500
GC Series
S60

Total Cost of Ownership

Long term reliability with zero false rejects
Environmental Robustness

Scalable options to suit the harshest environments
Finish

Bead Blast SS
Painted AL

HMI Display

145mm (5.7 inch) color QVGA touchscreen display
Frequency

3 Frequencies up to 800kHz
2 Frequencies up to 800kHz

Reduced Cost of Ownership
Extensively adaptable modular construction facilitates easy configurability as needs change. Reposition, replace, or upgrade, seamlessly.

Enhanced Efficiency, Safer Operation
Hazards designed out, safety features built in. Essential maintenance tasks simplified. Open-frame design for faster, more effective cleaning.

Reliable, precise performance
Proven detector technology delivers excellent sensitivity and stability with optimised electronic and mechanical integration, for enhanced compliance.

Maximum System Uptime
A single-supplier solution supports the best possible mechanical and electrical integration, for optimal system performance and uptime.

Designed for efficiency
Cleaning and sanitizing processes are simplified due to an open frame design, elimination of flat surfaces and the ability to remove modular parts.

Safer Operation
Key safety features such as guarding and lockout/tagout devices, protect operators during production and support safer maintenance practices.

Lifetime Service Support
METTLER TOLEDO Global Service capability can support you with correct installation, set-up, and maintainance, to maximize your return on investment.

Documentation