StarWeigh ™ Checkweigher
Maximum Precision for Small Products.
The StarWeigh™ delivers laboratory accuracy at production throughput for small, unstable and lightweight products. The compact checkweigher can easily be installed into existing production lines and offers smooth and stable product transfer.
Laboratory Precision at Production Speed
With up to 4 highly precise load cells, the StarWeigh™ achieves accuracies of up to ±5mg at production throughputs of up to 300 ppm.
Flexible, Space Saving Line Integration
With its sleek and compact design, the StarWeigh™ Checkweigher can easily be installed over existing production lines, saving valueable space.
Stable Product Handling
Smooth and stable product handling of small, narrow, and unstable product shapes due to customized starwheels that fit your package shape requirements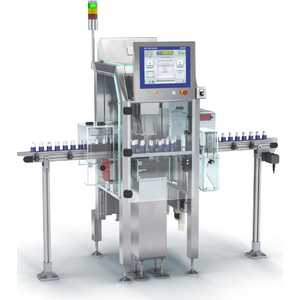 Product Family:checkweighing00020020
Specifications - StarWeigh ™ Checkweigher
Throughput

300 ppm
IP Rating

IP 54
Production Environment

Dry
Accuracy

up to ±0.05 g
Weighing Technology (Load Cell)

EMFR
Strain Gauge

HMI

15"
Weighing Range

0,035 oz – 35,27 oz
1,5 g - 1000 g

Product Width

100 mm
Maximum Product Weight

1 kg
Transport Height

800 mm – 1 050 mm (± 50 mm)
Approval

Weights & measures design approval for official verification (MID certifiable)
Industry

Pharma & Biotech
Material Number(s)

24009080
Throughput:300 ppmThroughput:300 ppmIP Rating:IP 54IP Rating:IP 54Weighing Technology (Load Cell):EMFR;Strain GaugeWeighing Technology (Load Cell):EMFRWeighing Technology (Load Cell):Strain GaugeHMI:15"HMI:15"Maximum Product Weight:1 kgMaximum Product Weight:1 kgIndustry:Pharma & BiotechIndustry:Pharma & Biotech
Intuitive Operation with 15" Touchscreen
The multilingual HMI displays key weight, production, and configuration data and helps to facilitate quick and easy product changeovers.

Easy Product Changeover
A variety of starwheels are optionally available to support multiple product formats on one production line. The starwheels are easily exchangeable for quick product changeovers.

High Precision Weighing Technology
The StarWeigh™ comes with a choice of either the new FlashCell load cell, an extremely accurate, temperature compensated (EMFR) load cell, or a robust and cost-effective strain-gauge load cell

Global Service Support
A global network of service experts provide fast remote and on-site support. Our comprehensive service offering allows you to achieve regulatory compliance, high performance, and maximum uptime throughout the life cycle of your product inspection equipment.