CS3600 Checkweigher
Robust, Dependable Accuracy.
This robust caseweigher delivers end of line completeness checking and 100 percent weight monitoring of single large products in challenging working environments and can optionally integrate a metal detector for use as a Critical Control Point.
Rugged Construction for Heavy Loads
An economical and efficient NTEP-approved solution ideal for manufacturers with high load application requirements in dry and washdown environments.
Reduced Maintenance Downtime
Easy access to all major components for fast cleaning and maintenance. The belt design allows for quick and easy tracking, tensioning, and change out.
Optional Metal Detector Integration
Ideal for use as a Critical Control Point including separate rejects for contaminated or off-weight products and conveyor shut-down option.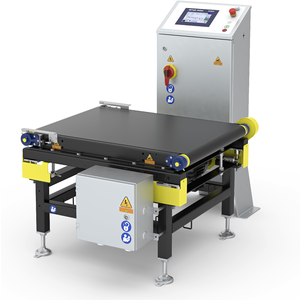 Product Family:checkweighing00020024
Specifications - CS3600 Checkweigher
| | |
| --- | --- |
| Throughput | 150 ppm |
| IP Rating | IP 54 |
| Weighing Technology (Load Cell) | SG |
| HMI | 12"; 7" |
| Material Number(s) | 66116270 |
Weighing Technology (Load Cell):SGWeighing Technology (Load Cell):SGHMI:12"; 7"HMI:12"HMI:7"
Maximum Performance
A conveyor speed of up to 300 ft/min (91.4 m/min), a weighing range up to 220 lbs (100 kg), and very high weighing accuracy positions the CS3600 PlusLine caseweigher at the forefront of heavy load checkweighing technology.

Data Collection to Support Compliance
More than ten data communication protocols including Ethernet, Fieldbus and OPC technologies to provide the fullest suite of data collection tools available. Supports Industry 4.0 integration projects.

Maximum Operator Accessibility
Systems are operated through a 7" or 12" multilingual touchscreen located in proximity to the machine or mounted in front of the conveyor for maximum operator accessibility.

Global Service Support
A global network of service experts provide fast remote and on-site support. Our comprehensive service offering allows you to achieve regulatory compliance, high performance, and maximum uptime throughout the life cycle of your product inspection equipment.