Multi-Channel, Multi-Parameter M800
Achieve Maximum Flexibility in Your Analytical Monitoring
The M800 multi-channel transmitter is a full color transmitter that offers simultaneous monitoring of one, two or four in-line sensors plus two additional inputs for flow sensors to achieve maximum flexibility and control of analytics in your process. Featuring the ability to integrate with Intelligent Sensor Management (ISM) sensors, the M800 multi-channel, multi-parameter transmitter provides sensor diagnostic information to help users plan their maintenance program to reduce time and effort.
Predictive Diagnostics on the M800 Transmitter
This full color transmitter is designed for ISM sensors. The M800 vividly displays predictive sensor diagnostics, including remaining sensor lifetime and the time until calibration is needed.
Improve Sensor Maintenance Planning & Execution
The ISM tools provided with the M800 help better plan your sensor maintenance program. ISM Plug and Measure technology simplifies and reduces effort during measurement point commissioning.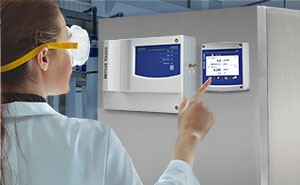 Easy-to-Use and Configure Full Color Transmitter
The user interface of the M800 enables users to create shortcuts and customize their screen to meet their preferences and access information quickly. A color indicator provides intutive status info.
Versatile Transmitter for a Range of Applications
The M800 is well suited for monitoring in pharmaceutical waters and processes, power generation water cycle chemistry, ultrapure water for microelectronics manufacturing and brewing.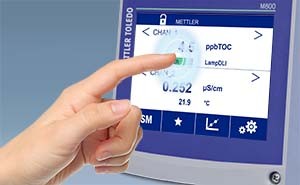 Intuitive Touchscreen Control of the M800
The M800's intuitive user interface allows for complete analytical control at your fingertips thanks to the color touchscreen that provides simple and convenient operation.
Available in Multiple Variations & Connectivity Options
This multi-channel transmitter offers 1-, 2- and 4- channel models, models specific for water or process monitoring and connectivity with Ethernet/IP, Profinet and Profibus DP.
Explore our Services - Tailored to Fit your needs
We support and service your instruments through its entire life-cycle, from installation to preventive maintenance and calibration to equipment repair.
Compliance
Calibration & Quality