Weighing Platform PBA429X-A15H
For Demanding Applications.
High Durability
The rugged, full stainless steel frame & the hermetically sealed load cell ensures a long life time also when used in harsh, wet & humid environments (IP68/IP69k).
Easy to Clean
The open and sturdy platform design, built according to hygienic standards, allowing fast, thorough and easy cleaning.
Hazardous Area Approved
This platform is suitable for ATEX zone 1/21, the load cell is approved according FM Class I, II, III, Division 1 and it features a hygienic kit.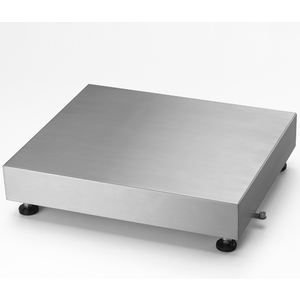 Product Family:platform-scale00040146
Specifications - Weighing Platform PBA429X-A15H
| | |
| --- | --- |
| Maximum Capacity | 25 lb (15 kg) |
| Readability | 0.002 lb (1 g) |
| Readability (Certified) | 0.005 lb (5 g) |
| Repeatability(sd) | 0.0009 lb (0.4 g) |
| Platform Size (LxHxW) | 9.5 in x 3.81 in x 11.8 in (240 mm x 97 mm x 300 mm) |
| Hazardous Approval | FM Class I, Div. 1; ATEX Cat. 2GD |
| Material | Stainless Steel V2A (AISI 304) |
| Scale Interface | Analog |
| Cable | 9.9 ft (3 m) |
| Repeatability | 1 g |
| Repeatability, typical | 0.4 g |
| Repeatability (typical) | 0.0009 lb |
| Protection Rating | IP69k; IP68 |
| Dimensions (LxHxW) | 9.5 in x 3.81 in x 11.8 in (240 mm x 97 mm x 300 mm) |
| Weighing Pan Dimensions (LxHxW) | 9.5 in x 2.2 in x 11.8 in (240 mm x 56 mm x 300 mm) |
| Linearity, typical | 5 g |
| Linearity (typical) | 0.005 lb |
| Linearity | 0.005 lb (5 g) |
| Environment | Wet & Harsh Wet (>/=IP66) |
| Dimensions/Platform Size | </=400 mm; from 6.3" to 15.7" |
| Legal for Trade | NTEP; OIML |
| Hazardous Area | Zone 1/21; Division 1 |
| Hygienic Design | No |
| Platform Type | Bench Platforms |
| Material Number(s) | 72237290 |
Maximum Capacity:25 lb (15 kg)Maximum Capacity:25 lbMaximum Capacity:15 kgReadability:0.002 lb (1 g)Readability:0.002 lbReadability:1 gReadability (Certified):0.005 lb (5 g)Readability (Certified):0.005 lb (5 g)Platform Size (LxHxW):9.5 in x 3.81 in x 11.8 in (240 mm x 97 mm x 300 mm)Platform Size (LxHxW):9.5 in x 3.81 in x 11.8 in (240 mm x 97 mm x 300 mm)Environment:Wet & Harsh Wet (>/=IP66)Environment:Wet & Harsh Wet (>/=IP66)Dimensions/Platform Size:</=400 mm; from 6.3" to 15.7"Dimensions/Platform Size:</=400 mmDimensions/Platform Size:from 6.3" to 15.7"Legal for Trade:NTEP; OIMLLegal for Trade:NTEPLegal for Trade:OIMLHazardous Area:Zone 1/21; Division 1Hazardous Area:Zone 1/21Hazardous Area:Division 1Hygienic Design:NoHygienic Design:No
Documentation