Bench Platform PBA436-CC600
Durable and Easy-to-Clean Design!.
The PBA436 stainless-steel platform is a robust, durable and economical solution for a wide range of weighing tasks with light hose-down requirements. Platform: 600 x 800 mm (24" x 32") Max capacity: 600kg (500kg/1000lb)
High Durability
The electropolished, fully stainless-steel frame is designed to withstand harsh environments to ensure equipment reliability and longevity.
Hygienic Design
The open, sturdy frame design provides easy access to all parts of the construction to improve cleaning efficiency and eliminate contamination risk.
Accuracy Protection
Optimally placed and independently adjusted overload stops ensure the best possible protection against load cell damage to provide accuracy over time.
Material No.: 30598205019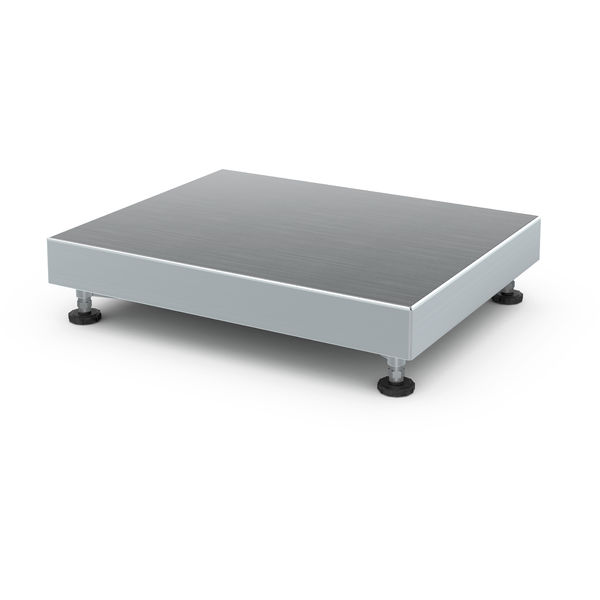 Product Family:platform-scale00040143
Specifications - Bench Platform PBA436-CC600
Maximum Capacity

1,000 lb (600 kg)
Readability

0.1 lb (50 g)
Material

Stainless Steel V2A (AISI 304)
Protection Rating

IP65
Scale Interface

Analog
Platform Size (LxHxW)

23.6 in x 5.2 in x 31.5 in (600 mm x 132 mm x 800 mm)
Repeatability, typical

6.2 g
Repeatability, (typical)

0.047 lb
Repeatability (sd)

0.015 lb (6.2 g)
Readability (Certified)

0.2 lb (100 g
200 g)

Repeatability

0.1 lb
Cable

9.8 ft (3 m)
Environment

Dusty & Light Wet (IP65)
Dimensions/Platform Size

from 19.8" to 31.5"
from 501 to 800 mm

Legal for Trade

NTEP
OIML

Hazardous Area

Non-hazardous area
Hygienic Design

Yes
Platform Type

Bench Platforms
Precise Leveling
The fixed mounting plate offers a leveling bubble to help operators determine the optimal positioning for accurate weighing results, and easily adjustable feet allow for quick and precise leveling execution.

Optional Hygienic Kit
To further reduce the risk of contamination, this platform series offers an optional hygienic kit, containing leveling feet and overload stops without open threads so water and residue have no place to collect and hide.

Complete Industrial Scale Solution
METTLER TOLEDO offers multiple industrial weighing solutions that combine a stand-alone weighing platform with a weighing scale indicator for rugged, accurate and reliable scales and load-cell systems in tough industrial environments.

Traceability with Reliable Printers
METTLER TOLEDO industrial printers and peripherals reliably document your weighing and process data with ease. Optimize your printer and peripherals with METTLER TOLEDO software for designing labels and storing custom templates.

Data Management Software
Managing the data from your weighing systems is important for maintaining an efficient production process. Our data collection and monitoring solutions help control the operation of your scale terminals as well as track information generated by them.

Benefit from Our Weighing Know-How
Our free GWP® Recommendation ensures you have the right scale for your weighing process. With years of weighing expertise, we can support you with scale selection, installation, cleaning, routine testing, calibration and maintenance.

Comprehensive Service Offering
Our services include installation and qualification, calibration, maintenance, and routine testing to ensure your scale is fit for purpose and meets industry standards and regulatory requirements. Customize your service package to meet your precise needs.

More Information