Data+ Data Management Software
Data Management Software Solution
Data Traceability
Eliminate the need to enter data manually on a terminal, and skip directly to entering data on a PC. By streamlining this process, you save effort and increase processing speed up-to 20X's.
Call for Quote
/content/us/en/home/products/Industrial_Weighing_Solutions/Software/data-collection-and-monitoring/data-plus-data-management.fb.1.c.11.html
Data Management
Do not let your software limit your capabilities - Streamline your data management with a single software, which can store, control and amend up to 30,000 records from your desk. Data+ allows you to spend your time on more valuable workflows instead of wasting time on manual tasks.
Article Database Support
Use Data+ across multiple machines to improve consistency in processing and reporting. Achieve consistent quality that is reliable and easily traceable especially during an audit.
Achieve Consistent Product Quality
Centrally maintain your Pick&Pack kit bill of materials and formulation recipes to guide operators. Be confident there are zero errors when packaging kits and each recipe ingredient is on target for repeatable flavor or performance. This reduces your cost while improving your customer relationship.
User Friendly Interface for the Customer
User-friendly reporting functionality gets your reports completed faster, especially when compared regular manual programs. This reduces your time spent generating reports and allows for faster reaction time.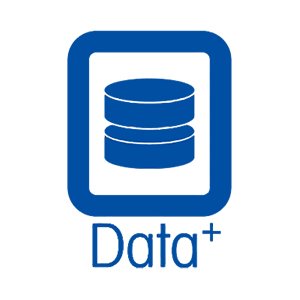 Download Software
Download a free trial of Data+ directly to your PC and contact your local Mettler Toledo representative to purchase a license within 45 days or download the Data+ Lite version for unlimited free use.
FAQ
More Information
Data+ Data Management Software
Data+ is suitable for many industrial applications in industries including food, chemicals, pharmaceuticals, manufacturing, transportation and logistics and more. METTLER TOLEDO is world renowned for accurate and reliable weighing scales and systems for wet and dry industrial environments.