PFK9 High-Precision Floor Scales
High Accuracy for Manual or Automated Processes
When you must fulfill tight tolerances for large items or bulk quantities on floor scales, PFK9 weighing platforms provide the precision you need. Watch the video to learn how the platform design enables the highest accuracy in production environments and how this can help you to improve your weighing processes and achieve consistent quality, increase productivity and comply with regulations.
Call for Quote
/content/us/en/home/products/Industrial_Weighing_Solutions/AutomPrecision/pfk9-platforms.fb.1.c.11.html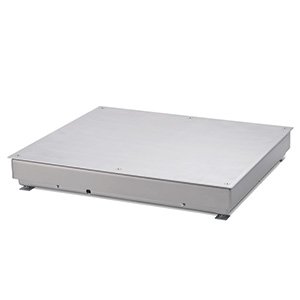 Consistent Accuracy from Ultralight to Heavyweight
Accurate weighing helps you manage raw materials, ensure compliance with regulations and improve your product quality. For floor scale processes that require high reliability with the best accuracy available, the PFK9 high-precision floor platforms provide outstanding performance at resolutions of up to 750,000 divisions.
Functional Design
Installing floor scales in pits is beneficial to allow easy loading and unloading of material on the ground level. The pit frames, which are available as an accessory for all floor scales, ensure short installation time and easy positioning and leveling.
Smart Load Cell Technology
The load cell with Monobloc technology is at the core of the PFK9 weighing platforms and enables the highest precision and reliability. A robust load cell housing, integrated overload protection and durable mechanical interfaces help to deliver stable weight values over many years of intensive use.
Safe in Hazardous Areas
With the PFK9 floor platforms, you can achieve exceptional measurement accuracy even in potentially explosive environments. With global approvals for hazardous-area operation, you can comply easily with regulations for Ex-areas.
Direct Connectivity
PFK9 APW weighing platforms can be directly connected via plug-in cables to any process-control system via RS422 or RS485 and serviced with their additional RS232 interface. Options are also available to connect the platform to EtherNet/IP™ and Profinet IO®.
Global Service Expertise
Our comprehensive service offerings protect the performance of your equipment, minimizing downtime and maximizing productivity. We offer services such as:
Preventive maintenance
Repair service
Calibration and certification
Training and education
Remote support
And more!
When you choose METTLER TOLEDO, you gain more than just exceptional weighing solutions, you gain a dedicated partner committed to your success. Experience the reliability, expertise, and support of our Service team.