METTLER TOLEDO supports power plants with an in-depth knowledge of critical ultrapure water (UPW) measurement technology and extensive application expertise. Our innovative multi-parameter instruments and sensors are specified to monitor UPW systems worldwide. Expansive measurement capabilities allow our instruments to be utilized throughout the entire water cycle: from makeup water to cycle chemistry to cooling to wastewater, reclaim and recycle.
If you would like support on a water cycle project, request a consultation at the link below to have your local METTLER TOLEDO representative contact you.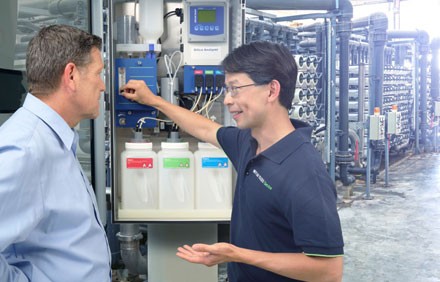 Power Plant Water Projects
METTLER TOLEDO Thornton has developed world-class technology in the areas of conductivity, sodium, silica, pH, ORP, dissolved oxygen, total organic carbon, and chloride/sulfate measurement. We continue to provide innovative solutions with expanded measurement capabilities to meet the demanding requirements of the thermal power generation industry.
Reduce Corrosion & Deposition
Long-term efficient power generation requires careful surveillance to guard against corrosive and depositing conditions and to assure conformance with EPRI, VGB, IAPWS or other guidelines. METTLER TOLEDO expertise for these measurements includes high performance sensors and analyzers that provide reliable measurements to help reduce turbine damage and ensure system uptime.