Because Pipetting Shouldn't Hurt
By virtually eliminating friction, the Rainin LiteTouch System dramatically reduces the amount of force required to load and eject tips. A thin sealing ring near the top of the tip slides easily over the shaft, creating a firm, air-tight fit with minimal force. LTS pipettes also have cylindrical ends (not cone-shaped) and a positive stop inside the tip to guide the shaft to the correct insertion depth.
85% Less Force
Ejection force in typical pipette tip/shaft designs average 4 kg – but can be as high as 10 kg. Tip ejection force with LTS is just 0.6 kg.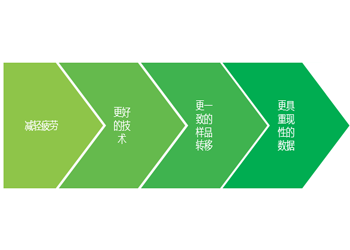 Less Fatigue
With light springs and as little as 0.6 Newtons of force required for tip ejection, LTS-equipped pipettes reduce fatigue and allow you to concentrate on your work and pipetting technique.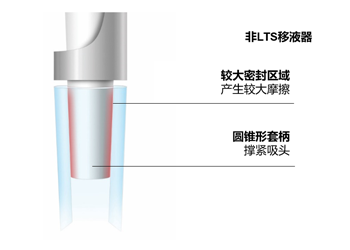 Less Friction
Typical pipettes have cone-shaped shafts that rely on friction to hold tips firmly. In fact, because the tip literally stretches to fit around the shaft, users typically rock or bang the shaft into the tip to achieve a reliable seal. The problem: however much force you use to insert the tips, at least as much force is required to eject them – most of which comes from your thumb.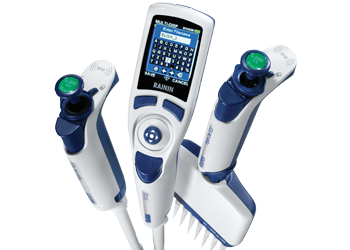 Rainin XLS+ Pipettes with LTS
With LTS-equipped Rainin XLS+ pipettes, you'll experience comfort and performance, even after hours of pipetting. LTS-equipped XLS pipettes not only minimize fatigue and significantly reduce the likelihood of developing RSIs, they feature:
Ergonomically designed, lightweight bodies that fit comfortably in your hand.
A finger hook that supports the pipette in your hand so you can relax your grip.
Light springs and low-drag seals for low plunger forces during aspiration and dispense.