Do you want to calculate a confidence interval for your titration results and in addition receive valuable information for the optimization of your titration application? Is your laboratory already accredited according to ISO/IEC/EN 17025 (2005) or do you want to apply for it? Do you therefore need verified evidence that you are able to calculate the measurement uncertainty of your titration application? Do you want to ensure results comparability with other laboratories that use the same application?
The Measurement Uncertainty Pac (MuPac) is a Good Titration Practice (GTP) service of METTLER TOLEDO that enables to calculate the measurement uncertainty of your titration application efficiently. The MuPac service is based on a comprehensive and secure process. Your titration method that is ideally validated and the respective SOP is the core of this process that proceeds in dialog with METTLER TOLEDO:
You purchase a MuPac license key at your local METTLER TOLEDO representation
You enter the MuPac license key in entry mask below
After successful validation of the license key you are allowed to download a calculation request form and practice-oriented literature to calculation of measurement uncertainty
You complete the form with your titration application data and follow the instructions. If needed, you receive competent support.
Within one week you receive the measurement uncertainty calculation, the confidence interval of your results and recommendations for application optimization summarized in a quality report by E-Mail.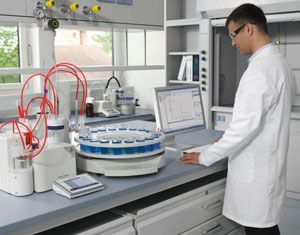 Assess Your Titration Application – With GTP MuPac
The measurement uncertainty is calculated with a validated software of the Swiss Federal Institute of Materials Testing (EMPA). The calculation is performed according to the latest version of the Eurachem/CITAC guide guide "Quantifying Uncertainty in Analytical Measurement (QUAM)" and therefore fulfills the ISO 17025 requirements. The software was developed and tested within the frame of a large project with several independent subject matter experts and analytical instrument manufacturers such as METTLER TOLEDO.  
Your benefits:
An efficient secure and practice applicable process
A comprehensive, transparent and trustworthy measurement uncertainty calculation
A detailed report that was securely generated by the calculation software and presented to authorized regulation authorities
Assessment and recommendations to optimize your titration application
All known volumetric titration applications independent of the instrument are covered
With the GTP MuPac service you gain confidence to correctly assess and rely on your titration results. Worries concerning passing audits in this respect are a thing of the past.