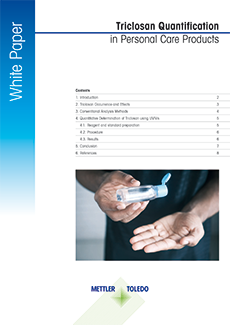 Download the free white paper to learn about reliable triclosan quantification with UV Vis spectrophotometry for safe personal care products.
Triclosan (TCS, 5-chloro-2-(2,4-dichloro phenoxy) phenol) is a synthetic, multi-purpose antimicrobial agent which is commonly used in personal care products because of its antibacterial and antifungal properties. In September 2016, triclosan was banned from soap products following the risk assessment by the U.S.A. Food and Drug Administration (FDA).
Triclosan in Personal Care Products and Disinfectants
However, TCS remains, at high concentrations, in other personal care products such as toothpaste, mouthwash, hand sanitizer, and surgical soaps. The production rates have even increased since the outbreak of the coronavirus disease 2019 due to the high demand for disinfection.
Quantitative Triclosan Determination with UV Vis

The excessive use and disposal of TCS-containing disinfectants and antiseptics raise concerns about the negative effects on human health and the environment and need constant monitoring. UV Vis spectrophotometry can be considered as a cost-effective and simple method for quantitative TCS determination in liquid samples. This includes the safety control of the products themselves as well as the sampling of potentially contaminated liquids.