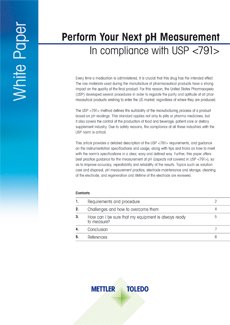 USP 791
This article provides a detailed description of the USP 791 requirements for pH measurements. It also contains guidance on the instrumentation specifications and usage, as well as tips and tricks on how to meet with the norm's specifications in a clear, easy and defined way. Further, this paper offers best practice guidance for the measurement of pH (aspects not covered in USP 791), so as to improve accuracy, repeatability and reliability results. Topics such as buffer care and disposal, pH measurement practice, electrode maintenance and storage, cleaning of the electrode, and regeneration and lifetime of the electrode are reviewed.
1. Requirements and procedure
2. Challenges and how to overcome them
3. How can I be sure that my equipment is always ready to measure?
4. Conclusion
Learn how to follow USP 791 in an easy and defined way.
Perform Your Next pH Measurement In compliance with USP <791>
1. Requirements and procedure
USP <791> outlines the requirements of the pH measuring system, including the pH meter and electrode. Those requirements have implications on the calibration and verification standards used. Several considerations are discussed in this section.
Calibration of the sensor
Sensor calibration is indispensable for a reliable pH analysis, and hence essential to ensure the reliability and quality of the manufactured products. It could be defined as establishing the difference between what should be measured and what a sensor actually measures.
This calibration is performed by submerging the sensor into calibration buffers of known pH value. USP <791> states that a minimum of two calibration buffers, the difference between which should not exceed 4 pH units, must be used for this calibration. In addition, the expected pH value of the samples to be measured must fall within the range of the calibration buffers used. For instance, if a sample is expected to be pH 7.45, calibration must include buffers of pH 7 to 10.01 (or similar).
After this calibration, the slope of the electrode is adjusted and the offset of the calibration slope is calculated to compensate for any deviations from the theoretical values. This is calculated directly by the instrument. In pH measurements, the term sensor "calibration" is typically used for both steps: calibration followed by adjustment.
[…]
Verification of the sensor
Meter calculation
Special considerations: Accuracy of the temperature measurement
2. Challenges and how to overcome them
METTLER TOLEDO's pH meters, sensors and buffer solutions help ensure compliance with USP <791> requirements with high accuracy, rendering the process fast and simple.
During verification, mistakes can be made when manually referencing temperature tables to adjust pass/fail criteria. With SevenExcellence™meter, tables can be programmed into the instrument's memory in order to avoid introducing any possible error. The meter automatically references those tables, compares results and indicates whether the sample meets the specification or not. This is achieved by using a workflow method, which is a sequence of analysis steps with pre-set parameters. These workflow methods guide the user step by step on how to proceed with the instrument, and ensure users are following the proper SOP (Standard Operation Procedure).
[…]
3. How can I be sure that my equipment is always ready to measure?
Different measurement and maintenance practices, not covered in USP 791 norm, are essential to assure the reliability and quality of pH measurements:
Solution care and disposal
The quality of calibration solutions is only guaranteed before the expiry date is reached and before opening the bottle. Following these tips, passing sensor calibration and verification becomes much simpler, thus optimizing the use after opening and ensuring compliance with the norm:
As buffers have an expiry date, they should not be ordered in bulk.
The bottles should be well sealed and stored at room temperature.
Bottles should be closed immediately after use in order to avoid any contamination.
The electrode should never be calibrated directly into the bottle.
Poured calibration buffers should never be re-used and the volume of the solution taken for calibration should never be reintroduced into the original bottle.
Where possible, the usage of single-use buffer sachets should be considered.
pH measurement practice
Electrode maintenance and storage
Electrode cleaning
Electrode regeneration and lifetime
4. Conclusions
Compliance with USP <791> norm is required for many applications related to the pharmaceutical industry. While its procedure is rather straightforward, the potential risk of making mistakes during each step could lead to inaccurate results or failed audits. Therefore, care must be taken.
[…]