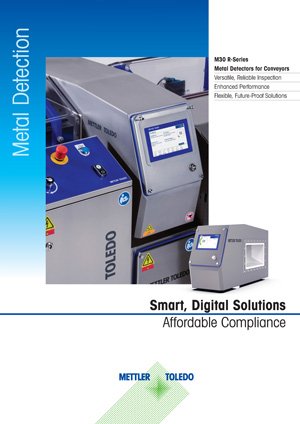 M30 Metal Detector | PDF Brochure
The M30 R-Series metal detection systems make it easier to achieve affordable compliance, now and in the future. They cater to manufacturers who simply want a metal detector that works, is easy to install, operate and maintain.
With streamlined feature sets, these metal detection systems can help meet your budget and sensitivity performance needs.
The M31R StandardLine solution offers versatile, reliable inspection for cost-sensitive dry / wet applications. M33R, M34R and M33RB PlusLine models deliver greater detection sensitivity performance in dry, wet / conductive and bulk applications respectively, to detect smaller metal contaminants.
The foundation of the M30 R-Series is the SENSETM software which provides split-second judgment calls on contamination and significantly reduces false reject rates. You benefit from next generation technology combined with the quality and reliability you expect from METTLER TOLEDO Safeline.


M30 R-Series metal detectors can be easily integrated with a wide range of conveyor systems to inspect, detect, and reject metal contaminated product from your line. They are suitable for inspecting bakery, meat, dairy, confectionery, ready meals, fresh, chilled and frozen food products and packaged consumer goods, including those in metallized film.
What's special about our smart, digital metal detection systems?
Made For Modern Manufacturing

SENSETM software thinks for you - every action of the integrated system is perfectly orchestrated to work in harmony for enhanced process control. It is easy to take advantage of new software, hardware features and security updates.
All M30 R-Series models have an intuitive touchscreen with local language customization at individual user level to improve efficiency and reduce operator error risks.
Augmented reality for service interventions and training delivery improves resource efficiency.
Affordable Compliance

Advanced detection capabilities are available in an entry-level package at an attractive price.
The rugged, hygienic design supports long-term reliability.
Dynamic Stability Control delivers enhanced performance and reliability to minimize false rejects, reducing unnecessary product waste.
Built to Last

All systems include application-proven, multi-way seal technology and a one-piece liner for protection against water ingress in harsh washdown environments.
User-replaceable, modular spare parts simplify maintenance processes and reduce total cost of ownership.
As your compliance and production needs change, you can simply upgrade, rather than replace, your metal detection system with our Productivity and Protection Packs.
---